Copyright Notice
- All original comments are © Copyright 2004 by CodeWarrior. All rights are reserved. All quoted material unless in public domain, are the copyrighted works of the respective copyright holders, and all referenced trademarks are respectively owned by the relevant trademark holder. No attempt nor intention is made by this author to dilute any trademark or infringe any copyrighted material. All materials used on this page not copyrighted by CodeWarrior, are held to be used for non-commercial , personal, fair use purposes. All declaratoy statements not manifestly,contextually or perceptually, intended to be sarcastic, ironic, or parody in nature, are asserted to be true and correct by the author of this blog, as far as could be determined given the information available to the author at the time the post was written. Unauthorized reproduction of material on this page is prohibited, unless such limited reproduction falls under fair use, and such use is authorized if proper attribution of the source of the material, and author is credited in all instances of its usage.
SEARCH THIS SITE USING KEYWORDS
Powered by:

CodeWarriorZ BlueZ
CodeWarriorz Thoughts
Day to day musings of free speech activist CodeWarrior.
CHECK OUT THE WEBSITE OF MY PAL SHMOO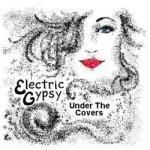 Friday, July 02, 2004
"We have long since made clear that a state of war is not a blank check for the president when it comes to the rights of the nation's citizens," wrote O'Connor in her majority opinion.

The court upheld the broader right of the executive branch to hold so-called enemy combatants. But the rulings weakened President Bush's position on handling terrorism suspects.

"There is clear repudiation of the government's absolute position that the courts have no role," said Thomas Goldstein, a Supreme Court appellate attorney. "The Supreme Court did offer the executive a real change to balance how much procedure the detainees would get, it's not that they have all the rights of a U.S. citizen in every court case, but it does absolutely reject the president's claim that it is only his choice who gets to go to court and when."

The court did not provide a roadmap for just how and when these detainees will get their day in court. The Bush administration has begun drawing up procedures, but has not yet offered details.

The terrorism rulings were likely the most significant in what was a busy term for the justices; approximately 84 cases were decided in the 2003-2004 term."



"Book an 'argument against violence,' says author
Friday, July 2, 2004 Posted: 1:38 PM EDT (1738 GMT)




Refinance Your Mortgage Today
Interest rates are at record lows. Get up to 4 free quotes and save $1000s.
www.lowermybills.com

Home Equity Loans - 3.75% APR
Get a low rate home equity loan. Compare free quotes from trusted lenders and...
www.lowermybills.com

Credit Reports Online - ConsumerInfo.com
Find out what is in your credit report, online and in seconds. ?We offer credit...
www.freecreditreport.com



YOUR E-MAIL ALERTS
George W. Bush

Nicholson Baker

or Create your own

Manage alerts | What is this?


NEW YORK (AP) -- Get ready for a new anti-Bush book this summer. Only this time, it's fiction. And this time, the subject is murder.

"Checkpoint" by Nicholson Baker, the author of the best-selling "Vox," imagines a conversation between two old high school friends. One of them is so angry about the war in Iraq that he wants to kill President Bush. His friend tries to talks him out of it.

"I wrote 'Checkpoint' because a lot of people felt a kind of powerless seething fury when President Bush took the country to war," Baker said in a statement Thursday.

"I wanted to capture the specificity of that rage. How do you react to something that you think is hideously wrong? How do you keep it from driving you nuts?"

Baker's publisher, Alfred A. Knopf, said it had received no official complaints so far about the book, which comes out August 10 with a first printing of 75,000 to 100,000 copies.

"Of course I recognize that this is a troubling premise for a novel," Baker said in his statement. "But 'Checkpoint' is an argument against violence, not for it."
----------------SNIP-----------------
Sci-Fi I guess...
the Bible...Revelations deals with the One World Ruler...

Virginia judge blocks 'day of rest' law
Friday, July 2, 2004 Posted: 6:38 PM EDT (2238 GMT)




Legal
Earn your Paralegal Degree with an affordable education from the Kaplan College...
www.kaplan-degrees.com

Unlimited Access to Attorneys
With a Pre-Paid Legal membership, starting at $26 per month or less, you can...
www.coveryourfamily.com

Leqal Question? Lawyers Contact You Free
Do you have a potential legal case? Use our free service, and a lawyer will...
www.lawquote.com

Thompson & Thompson Legal Services
Professional trademark, corporate and tax services for business and nonprofit...
www.t-tlaw.com



RELATED
Working for the weekend?

YOUR E-MAIL ALERTS
Virginia

Labor Legislation

or Create your own

Manage alerts | What is this?


RICHMOND, Virginia (AP) -- A legislative mistake that would require Virginia businesses to give employees Saturdays or Sundays off as a "day of rest" if they request it was blocked from taking effect this weekend by a judge Friday.

Judge T.J. Markow granted an emergency 90-day injunction at the urging of several Virginia corporations.

The delay will give legislators time to correct the oversight, which alarmed a wide range of businesses with weekend or round-the-clock shifts to cover, such as factories, stores, utilities and restaurants.

"The gun has at least been removed from their hand and put back in the holster," said Hugh Keough, president and chief executive of the Virginia Chamber of Commerce.

The judge acted reluctantly, saying he believed he was encroaching upon the legislature's prerogative.

The "day of rest" law was mistakenly enacted earlier this year when Virginia's General Assembly repealed the antiquated "blue laws" that once required businesses to close on Sundays.

Lawmakers unwittingly struck from the books a decades-old exemption for private businesses from Virginia's 17th-century day-of-rest law. The error went unnoticed and was signed into law by Gov. Mark R. Warner.

The day-of-rest law entitles workers at factories, restaurants, hotels, movie theaters and private hospitals to take off Saturday or Sunday -- whatever their chosen day of worship -- if they so desire.

Business that do not abide by their employees' wishes can be fined up to $500 for each offense. Also, an employer that forces an employee to work on a day of rest can be made to pay triple the worker's regular wages.

Dominion Resources, Virginia's main electricity utility, Smithfield Packing, one of the nation's largest meat producers, International Paper and others argued that the provision was unconstitutional because it specified particular days off for religious purposes.

They also argued that the measure violates a passage in the Virginia Constitution that says a bill can deal with only one purpose, clearly stated in the title of the legislation.

The companies said the law would cripple Smithfield's ability to meet its timetables for processing and shipping fresh meat, and could threaten the state's power supply.

"We have power stations, operations centers. We perform reliable services that are important to the state's economy. We'd just like a little common sense in play here to get us back to the status quo that existed before yesterday," Dominion Resources spokesman Jim Norvelle said.

However, he said none of the utility's 9,100 Virginia employees had tried to invoke the law.

The judge blocked the law, but added, "The legislative process, like the judicial process, is sacred. To say, 'We didn't mean to do it and the court needs to come in and fix it,' well, it's not as simple as that."

House Speaker William J. Howell said he wants to briefly reconvene the House and Senate to properly clean up the legislation.

"Obviously, you'd want to get this done before the injunction runs out," the Republican said. "Sure, it's embarrassing and there's plenty of blame to go around, but we don't need to play the blame game. We just need to come in and get the job done."

--SNIP-------
Hmmmmmmmmmmmmmmmmmmmmmm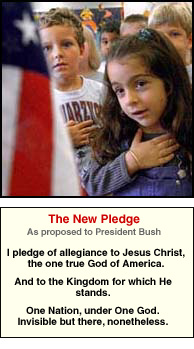 "The Pledge of Allegiance is a mandatory morning prayer recited in our nation's public and private school systems. It gives Christian students the freedom to deliver the plan of salvation during class time and effectively shepherd little practitioners of false religions into the loving arms of our Lord and Savior, Jesus Christ. The Landover Baptist Department of Christian Education believes that the Pledge of Allegiance presents a wonderful opportunity for poor Christian students who are forced to attend secular public schools to stand up and testify! Our pastors were so excited about this opportunity, that they insisted that we immediately share it with the millions of Christian viewers who visit our website each month for news, inspiration and information about where to send their checks.
Landover Baptist Christian Academy teacher, Mrs. Rebecca Weaver was the first to suggest that since public school students who recite the Pledge of Allegiance, are already acknowledging that America is, "one nation, under God." it flings open a door of opportunity for Godly students to speak with their unsaved classmates about the Christian God whom this nation is under. Mrs. Weaver, and the Landover Baptist "Pray the Pledge" Committee worked diligently for nearly a whole day create an easy to use Pray the Pledge checklist for Christian public school children. The following eleven tips are designed to assist Christian children in utilizing the Pledge of Allegiance as a tool for rescuing their hellbound classmates from false religions. If you are a Christian parent of a Christian child who unfortunately attends a non-Christian school, please go over this list carefully with your child. Make sure they memorize it so they won't interrupt themselves while sharing the message of Christ."
WASHINGTON (Reuters) -- A tiny pre-human who lived more than 900,000 years ago in what is now Kenya may have been a "short experiment" in evolution that never quite made it, scientists said on Thursday.
The little skull clearly belongs to an adult and was found last summer at a site where much larger hominids classified as Homo erectus lived, said Richard Potts of the Smithsonian Institution and colleagues.
He or she died on a volcanic ridge, perhaps mauled by a lion or other carnivore, Potts said.
It is the smallest adult fossil found dating back to the time of Homo erectus, the species of pre-human that dominated between 500,000 and 1.7 million years ago, Potts' team writes in Friday's issue of the journal Science.
Potts believes the fossil find shows that early humans lived in little groups that became separate and distinct for a while, and then came together every few thousand years or so, swapping genes and then parting ways again.
--------------------SNIP-------------------
May have just been the ancestor of that "Bat Boy" that the Weekly World News runs the adventures of...
Dominic Cavendish reviews Bat Boy: The Musical at the West Yorkshire Playhouse
http://www.telegraph.co.uk/arts/main.jhtml?xml=/arts/2004/07/01/btbat01.xml&sSheet=/arts/2004/07/01/ixartleft.html
"In 1992, The Weekly World News - an American tabloid specialising in implausibly outlandish scoops - reported the discovery of a "bat boy" in a cave in West Virginia. The accompanying photo of a monstrous infant with pointy ears, vicious fangs and weirdly dilated pupils begat a minor national obsession, which in turn begat this mildly diverting, finally pointless musical.
Laurence O'Keefe, the show's lyricist and composer, believes that the off-Broadway fortunes of Bat Boy were adversely affected by 9/11: although well received to the point of winning awards, it had to close after nine months in December 2001. Seen now in the cold, clear light of a Leeds revival, directed by Mark Wing-Davey, Bat Boy's first run looks like a freak stroke of theatrical luck.
To survive in an environment beyond the faddish circles of Bohemian Manhattan, a musical such as this requires some decent tunes and evidence of sustained brain activity on the part of its creators. But, as one instantly forgettable, tritely-worded rock number makes way for another, you realise that this has yet to evolve much beyond the level of a studenty bad-taste skit.
Tracing its hybrid hero's progress from feral foundling to star pupil and adored fourth member of his adoptive family, the Parkers, the show strives, according to O'Keefe, to be "simultaneously dead serious and seriously loony". What that means in practice is that it wavers between presenting him as an archetypal outcast, doomed to be made a scapegoat by superstitious locals, and sending up him - and itself - wherever possible.
Occasionally, it achieves batty lift-off. The sight of Deven May's fang-toothed, bald-pated Bat Boy celebrating his graduation in mortarboard and gown amid a chorus line of bopping cheerleaders approaches the demented visual genius of Jerry Springer - The Opera. But, for the most part, like its curiously wingless central character, the kooky carry-on fails to take flight.
The cast, though, give it their all, especially May, the show's original star, who brings a virtuoso display of spasmodic twitches and squinty glances to Bat Boy's battles with his own divided nature and Oedipal struggle with the insanely jealous Dr Parker (John Barr).
There's impressive support, too, from Emma Williams as Shelley Parker, his unexpected sweetheart, and from Rebecca Vere as his over-fond surrogate mother - but to what avail, when the writing is so toothless and bloodless?"
Happy 4th of July Weekend
I'm doing part of my moving to the new place today...so the blogs may be few and far between til Tuedsay...but...am carrying a desktop box with me, and hopefully, perhaps, can get logged on before then and crank out more garbage ...lol...

Have a safe and happy 4th weekend one and all.

God bless our servicemen and women around the world.

Marlon Brando..RIP and thank you for all the wonderful movies!

~Code

Farewell to Mr. Brando
Marlon Brando has passed. To me, Mr. Brando, a term I use out of respect, was one of the true greats in acting. The camera loved him. Mr. Brando could emote more with silence and a gesture than most with a soliloquy. The world is darker and duller without you.

My condolences to all his friends, family, and fans. God bless you, and may your memories help to ease the loss.

~CodeWarrior.

"WASHINGTON (Reuters) -- President Bush, seeking to mobilize religious conservatives for his reelection campaign, has asked church-going volunteers to turn over church membership directories, campaign officials said on Thursday.

In a move sharply criticized both by religious leaders and civil libertarians, the Bush-Cheney campaign has issued a guide listing about two-dozen "duties" and a series of deadlines for organizing support among conservative church congregations.

A copy of the guide obtained by Reuters directs religious volunteers to send church directories to state campaign committees, identify new churches that can be organized by the Bush campaign and talk to clergy members about holding voter registration drives.

The document, distributed to campaign coordinators across the country earlier this year, also recommends that volunteers distribute voter guides in church and use Sunday service programs for get-out-the-vote drives.

"We expect this election to be potentially as close as 2000, so every vote counts and it's important to reach out to every single supporter of President Bush," campaign spokesman Scott Stanzel said.

But the Rev. Richard Land, who deals with ethics and religious liberty issues for the Southern Baptist Convention, a key Bush constituency, said he was "appalled."
---------------SNIP---------------------
Separation of Church and State..
"Congress shall make no law..."

But Bush will say..."Yeah, but it didn't say I couldn't force them to turn over their membership details along with addresses"

"PARIS — An appeals court Friday rejected Lance Armstrong's attempt to force a publisher to insert the cycling star's denial of doping allegations into copies of a new book."

---snip-------
LOLOLOLOLOL...hmmmmmmmmmmmmmm

"By MATT CURRY
Associated Press Writer

ADVERTISEMENT






DALLAS — Country star Willie Nelson said Thursday that he will still sing but won't be able to play guitar during his annual Fourth of July picnic, scheduled to be held in Fort Worth for the first time.

Nelson said from Hawaii that a painful setback has postponed his recovery from carpal tunnel surgery. The operation on his left hand was conducted May 19.

"I have mixed emotions," Nelson said. "Naturally I'd love to play, but it hurts so much that I'm not yearning to play. I'm willing to wait until it's not hurting."

Nelson said he will still appear at a Saturday event in Roswell, N.M., for friend Merle Haggard and at the picnic, but won't make other appearances in July.

The singer said he suffered soreness and swelling in the hand after a reaction not normally associated with carpal tunnel surgery.

"Since it's me and Murphy's Law, anything will go wrong," he said.

Nelson had the surgery after apparently suffering from so much pain that he couldn't finish a May 8 show in Las Vegas.

He wore a large white cast on his left hand and forearm when he accepted an award with Toby Keith at the 39th annual Academy of Country Music awards on May 26.

"I can tell it's getting a little better each day, but I can tell by the rate it's improving, it's not going to be ready tomorrow," he said.

The daylong picnic at the Fort Worth Stockyards will be held on a 27-acre concert field dubbed the North Forty, which sits just east of Billy Bob's Texas. Organizers expect about 30,000 fans."
========SNIP===============
Carpal Tunnel release surgery....hmmmmmmmmmm

"I'm interested in people workin' "
LOLOLOLOLOLOLOLOLOL...........
President Queeg would look perfect with the steel balls to roll around while he talks...

"The economy of the United States has been a lot"

"...steady, consistent growth."
LOLOLOLOLOLOLOLOL...and he didn't break up laughing...

"...we're witnessing steady growth."

Steady...isn't that a word they apply to someone with rigor mortis....the economy is dead...so I guess the word "steady" applies.

No talk about increased growth, animated growth.

Bushes stresses "confidence"...well,..if he is a man who stresses confidence...we could say he is a "confidence man".

YUP.......

"Home ownership rates are at an all time high". WTF?????
That's his big news that we are to be happy about?

He keeps talking about being able to say "this is my home"...not if you don't pay property taxes...in which a lien is automatically generated on your home and property every Jan 1. If you really OWNED your home, you wouldn't have to pay anyone to keep it.

He has diarrhea of the mouth today...he just rambles and rambles and rambles.

Gosh this is SAD...and scary....did God give him this speech? I hope not.

"Jobs increased by 112 thousand in June." That's friggin' PITIFUL when you remember they promised a quarter million.

Then he talked about the "steady growth"....

Geez....steady growth..that's a malignancy, right?

"By Claire Osborn

AMERICAN-STATESMAN STAFF

Friday, July 2, 2004

The Travis County attorney's office dismissed charges Thursday against two State Board of Education members and a former member accused of violating the state's open meetings laws in 2000.

In exchange for the dismissal, board members David Bradley, a Republican from Beaumont, and Joe Bernal, a Democrat from San Antonio, and former member Bob Offutt, a San Antonio Republican, all received one year of deferred prosecution, said Travis County Attorney David Escamilla. That means if they have no violations of the law in one year, the charges will not be revived."
---------------SNIP-------------------------
Ha ha ha ha ha ha ha ....ROFL....lol...'Nuff said...if they don't adhere to the deferred prosecution...I guess charges WILL be revived.

"By Tony Plohetski

AMERICAN-STATESMAN STAFF

Friday, July 2, 2004

It started as a routine Travis County Republican Party executive committee meeting that Brian Russell wanted to capture on video.

It ended, Austin police say, with a call to police after Russell was jumped by a fellow Republican.

On Wednesday, police charged Stephen Titus Runyan, the sergeant at arms for Chairman Alan Sager, with assault with injury after they said he "physically removed" Russell from a May 26 meeting at a Holiday Inn in Northwest Austin.

"I haven't been in a tussle since high school," said Russell, who in May was a candidate for the state Republican executive committee for Senate District 14. "It was just very uncivil."

The incident deepened months of tensions that have riven the Travis County Republican Party. In March, Sager was censured by one of the two local party conventions, chastising him for campaigning against conservative precinct chairs associated with an anti-abortion political action committee.

Russell was the chairman of the convention committee that put the censure of Sager up for a vote.

Some say the tensions stem from ideological differences within the party, while others blame Sager's leadership style.

Sager could not be reached for comment Thursday.

Russell said he wanted to film the meeting to document Sager's behavior, which he said included violating basic rules of parliamentary procedure in filling precinct chair vacancies.

Austin police Detective Robert Gross said Sager objected to the filming and asked him to remove the camera from the room. Russell complied but then returned for his camera bag, which was when the assault began, Gross said.

An affidavit said Runyan "jumped him from behind." Russell was in a choke hold, with his arm behind his back and was being wrestled through a set of doors when witnesses intervened.

"I was just saying, 'Turn loose of him,' " said Mike McNamara, a precinct chairman. " 'Get off of him. What are you thinking?' He was basically dragging him backwards."

The affidavit said Russell suffered scratches to his left forearm and neck pain and is still undergoing treatment.

Runyan's bail is set at $3,000. His lawyer, Jeff Jury, would not comment. "
=============SNIP========================
Ha ha ha ha ha ha ha ....ROFL...lol...way to go Repubs...fight in the aisles!

"Austin schoolteachers will have to leave the jeans at home when they come back to school Aug. 17.

Superintendent Pat Forgione, who crafted a new dress code for students in May, is now cracking down on staff apparel by banning tank tops, spaghetti straps, hats, flip-flops and slippers. Shorts are out, as well as spandex, leggings or anything that resembles an undergarment. Shirts designed to be tucked in must be tucked in, ties are encouraged, and if pants are designed to be worn with belts, then there had better be a belt strapped around them.

"I want to have a standard of acceptable dress that is a role model for our kids," Forgione said. "Teachers do have an influence on students."

The teacher dress code originated with a Community Safety Task Force formed last year, shortly after the on-campus murder of Reagan High School sophomore Ortralla Mosley by her ex-boyfriend.

To foster a sense of order and respect and to improve safety, the task force recommended that the district consider keeping students on campus during the lunch period and implementing dress codes and character education programs.

In May, district officials completed a dress code for students and decided seniors could still leave campus for lunch if they signed a compact promising not to behave recklessly. Officials are still developing the character education program.

Forgione said that during campus visits, he saw little consistency in teachers' dress."
================SNIP------------------
Yeah Obergubenfuhrer Forgione, they need some friggin' uniforms!
Too much individualism going on. Big Brother says we must have consistency...so suit 'em up dude!

"Foolish consistency is the hobgoblin of little
minds." - Ralph Waldo Emerson

"Employers hired less help in June than economists anticipated — adding 112,000 new payroll jobs — and the unemployment rate remained unchanged at 5.6 percent for a third straight month."
----SNIP---------
Remember in an earlier post when they were promising around 250,000 jobs?

LOLOLOLOLOLOLOLOL

*** BREAKING NEWS ****- THE FEDEX SAGA - SUCCESS!
We've all been rooting for "The Little Package" to find its way to its destination.

I just got a call and, at 9:15 am, the Little Package that Could...MADE it to it's destination....

So...it started out before noon on 29 June, and made it to it's destination before noon on 2 July.

Rejoicing and Jubilation was experienced here and in Northeast Texas...

THE LITTLE PACKAGE HAS SAFELY ARRIVED...AND IN JUST FOUR DAYS!
(Next Day Delivery was not accomplished...day AFTER next day, not accomplished...this was Next day after next day after next day delivery).

WAY TO GO FEDEX.
:)

"CNN) -- A 16-year-old California girl suffered second degree burns Thursday when her cell phone caught fire in her back pocket, according to the Ontario Fire Department.

The teenager was volunteering at an Ontario youth recreation center when witnesses heard a loud "whooshing" sound, said Frank Huddleston, a fire department investigator.

Huddleston said the victim didn't even know what was happening, and witnesses said they thought it was fireworks."
------------------SNIP---------------------------
The least that Fate could have done was to have it happen this weekend...even better...on the Fourth...
Seriously, I'm sorry this happened to this young lady. That's bad.

I really like Peter Duesberg's work and his courage.
I also like Kari Mullis' courage in support of Dr. Duesberg.
Those of you to whom the name "Kari Mullis" is not easily known, are probably not in the field of genetics. Kari Mullis is responsible for the PCR (Polymerase Chain Reaction) technique so ubiquitously and universally used in forensic genetic work. So, Kari has paid his scientific dues.
More on Kari and PCR at
www.horizonpress.com/hsp/books/dna.html
www.gvi.com/gviWeb/IAAM/kuglervol32.html
Note...Kari is a 1993 Nobel Laureate winner.
Check out Dr. Duesberg's ste...
http://www.duesberg.com/
"02 Jul 2004





A generic AIDS drug produced in India is just as effective as pricey branded medicines and costs a good deal less, say researchers. International aid agencies have, until now, refused to fund the generic medicines because there was no proof about their effectiveness. Now, it seems the cheaper option is just as good.

The clinical trial of Cipla's Triomune, carried out by Medecins sans Frontieres (Doctors without Borders, a French organisation), showed that the generic three-in-one AIDS drug is just as good.

Patients were given the tablet twice a day for a period of six months. 80% of the patients, who were already infected with HIV, had undetectable levels of the virus in their blood (at the end of the six month).

The study was carried out in the Cameroons. You can read about it in the medical journal The Lancet.

Study co-ordinator, Eric Delaporte, said "This generic fixed-dose combination (FDC) gives results comparable to those seen in the developed world using triple-drug therapy comprising brand name drugs. It is now no longer possible to raise scientific uncertainty as an objection to the widespread utilization of FDCs in the developing countries."

The WHO would find it much easier to reach its target of having 3 million AIDS patients in the third world on continuous treatment by the end of 2005 if this generic drug is used. "

"The remnants of a remarkably petite skull belonging to one of the first human ancestors to walk on two legs have revealed the great physical diversity among these prehistoric populations.

But whether the species Homo erectus, meaning "upright man", should be reclassified into several distinct species remains controversial.

Richard Potts, from the National Museum of Natural History at the Smithsonian Institute in Washington, DC, and colleagues discovered numerous pieces of a single skull in the Olorgesailie valley, in southern Kenya, between June and August 2003.

The bones found suggest the skull is that of a young adult Homo erectus who inhabited the lush mountainside some 930,000 years ago. The prominent brow and temporal bone resemble other Homo erectus specimens found elsewhere in Africa, and in Europe, Indonesia and China.

But the skull itself is around 30% smaller, which is likely to have corresponded to a similar difference in body size. The specimen helps fill a gap in the fossil record as very few Homo erectus specimens of this age have been found in Africa so far.

Strong arm

Many stone tools of similar age to the skull fragments have been found at the same site, and Potts' team suspect these may have required considerably more strength to manufacture than the small Homo erectus probably possessed. If so, this would imply a considerable physical variation within the local population.

Some experts even go so far as to suggest that a complete rethink of the human genealogical tree may be in order. "Recognising that Homo erectus may be more a historical accident than a biological reality might lead to a better understanding of those fossils whose morphology clearly exceeds the bounds of individual variation," says Jeffrey Schwartz of Pittsburgh University. "
--------------SNIP---------------------
I personally support a Sinogenetic origin to the human race...meaning, I think the earliest true men will be found in China.
~Code

The FedEx Saga..."On FedEx vehicle for delivery "
8:28 am
Status
"On FedEx vehicle for delivery "

OK...it's a race now...can the truck make it 20 miles in TWO HOURS?

We'll see.

Are Saturn's Rings made of STRAW??????
"But the graininess at the bottom left of the picture is harder to explain. "It almost looks like straw. I don't know what this is. I literally don't have a clue," says Porco, who is an expert on Saturn's rings. "It may be brand new, something nobody's predicted before. There may be processes going on that make the particles clump."
---------------
SNIP-----------------------------------------
The Moon, as we know, is made of grey cheese, so why not Saturn rings of Straw? :)
"Moore was outraged when Disney backed out of plans to distribute Moore's stinging critique of US President George W Bush's reaction to the September 11 terrorist attacks, claiming they didn't want to get involved in politics.

And he's seething now Disney is distributing America's Heart & Soul - a pro-America film that is being promoted by Move America Forward, a group that had tried to block the release of Fahrenheit 9/11, according to US site The Scoop.

A statement on the director's website reads, "Disney joining forces with the right wing kooks who have come together to attempt to censor Fahrenheit 9/11 must mean that Dumbo is now in charge of the company's strategic decisions.

"First, Disney tried to stop the movie from being released and now it is aligning itself with the very people who are trying to intimidate the movie theatres from showing the movie. Even Donald Duck would tell you this makes no sense."


"By David Morgan, Reuters


Released JUNE 30, 2004
WASHINGTON (July 1) - President Bush, seeking to mobilize religious conservatives for his reelection campaign, has asked church-going volunteers to turn over church membership directories, campaign officials said on Thursday.

In a move sharply criticized both by religious leaders and civil libertarians, the Bush-Cheney campaign has issued a guide listing about two-dozen "duties" and a series of deadlines for organizing support among conservative church congregations.

A copy of the guide directs religious volunteers to send church directories to state campaign committees, identify new churches that can be organized by the Bush campaign and talk to clergy about holding voter registration drives.

The document, distributed to campaign coordinators across the country earlier this year, also recommends that volunteers distribute voter guides in church and use Sunday service programs for get-out-the-vote drives.

"We expect this election to be potentially as close as 2000, so every vote counts and it's important to reach out to every single supporter of President Bush," campaign spokesman Scott Stanzel said.


But the Rev. Richard Land, who deals with ethics and religious liberty issues for the Southern Baptist Convention, a key Bush constituency, said he was "appalled."

"First of all, I would not want my church directories being used that way," he said, predicting failure for the Bush plan."



FEDEX Saga continues- We're closer to home :)
Well, at least the Little Package is back in Texas...and surprise surprise surprise...it was only TWENTY MILES FROM ITS DESTINATION AT 7:57...almost 8 oclock. So, it has two and a half hours from the time it arrived (they actually said it would be BEFORE 10:30 am) where it is...to get it to final destination.

This is a cliffhanger folks.

I will let you know if it makes it.

The LITTLE PACKAGE is struggling to get home. Everyone send it your thoughts...it's been lost in the hands of FedEX since before noon on 29 June.

"ATLANTA, Georgia (CNN) -- Rabies spread by organs taken from an infected donor has killed three transplant recipients, the Centers for Disease Control and Prevention said Thursday.

"This has never happened before," said Dr. Mitch Cohen, an infectious disease expert at the CDC, in a conference call with reporters.

A fourth recipient died during the actual transplant operation, before there was time to develop the disease, officials said.

Rabies was also determined to be responsible for the death of the organ donor.

The unprecedented case began nearly two months ago, shortly after an Arkansas man suffered a brain hemorrhage and died at Christus Saint Michael Healthcare Center in Texarkana, Texas.

The man's lungs, kidneys and liver were transplanted May 4.

The impact of the virus began to emerge within weeks.

The liver recipient died June 7; one kidney recipient died June 8 and the other kidney recipient died June 21. The patient who died was undergoing lung transplant surgery.

Though the risk of person-to-person transmission of rabies is low, the disease is nearly always fatal.

Health officials urged anyone who may have had contact with the infected patients to be tested for rabies, and patients at five hospitals were being sought.

In addition to the Texarkana hospital, the other facilities are Baylor University Medical Center in Dallas; the University of Alabama-Birmingham Hospital; Wadley Regional Medical Center, Texarkana, Texas; and Good Shepherd Medical Center Longview, Texas.

Cohen said rabies typically occurs in just one to three people in the United States in any given year, and is most often transmitted by the bite of an infected mammal.

Based on laboratory tests, health experts said they believe a bat infected the organ donor.

Rabies tests are not routine donor screening tests, Virginia McBride, public health organ donation specialist with the Health Resources and Services Administration, said.

The number of tests is limited because doctors have only about six hours from the time a patient is declared brain-dead until the transplantation must begin for the organs to maintain viability.

Potential donors are tested for other infectious diseases such as HIV, hepatitis B and C and syphilis, she said.

Person-to-person rabies transmission has been reported in only two cases, both of which occurred in Ethiopia via contact with saliva, Cohen said. One infection resulted from a bite, the other a kiss, he added."


"FERGUS, Ireland - Dromoland Castle's presidential suite in west Ireland offers luxurious accommodations for the rich and the powerful, but privacy sometimes is in short supply.

President Bush, on an overnight stay in the $1,500-a-night suite, was spotted by television cameras as he was standing in a T-shirt at his window. He was visible from the waist up, apparently as he was changing clothes.

An embarrassed Irish government quickly tried to prevent the release of the images.

A notice to the news media said, "The host broadcaster inadvertently transmitted pictures of President Bush at the window of Dromoland Castle. These pictures are the property of the Irish presidency and must not be used for transmission by any service."
----------------------------SNIP-------------------------------------------
Doesn't this qualify as obsenity under FCC guidelines? :)

"By THOMAS HARGROVE and GUIDO H. STEMPEL III
Jun 30, 2004, 07:23
Email this article
Printer friendly page


America's war on terrorism has regained the No. 1 spot in the public consciousness, a new poll shows, but renewed interest in events in the Middle East does not seem to be helping President Bush's standing with the public.
The incumbent's job-approval rating was at 46 percent in the latest national survey of 1007 adult residents of the United States conducted by Scripps Howard News Service and Ohio University. Forty-seven percent said they disapprove of Bush's performance in office, while 7 percent were undecided.

As in other recent polls taken by the Scripps Survey Research Center, a majority of Americans say they don't want Bush to be re-elected. But the president's level of support is slightly stronger among registered and active voters than it is among the general public.

When asked what was the most important issue facing the nation, 35 percent of respondents answered "the war on terrorism" or "peace in the Middle East." This is a significant jump over the 24 percent who picked these issues in a Scripps Howard poll conducted in February.

Concerns over the economy, which consistently led previous polls, dropped to second place with 18 percent, down from 27 percent four months ago.

Normally, this would be good news for Bush since he consistently has been rated as better able to deal with national security issues than were Democratic leaders. But the news coming from Iraq has been exceptionally negative in recent months as escalating attacks on U.S. troops and the prisoner abuse scandal dominated the headlines.

Support for the war itself continues to dwindle.

Participants in the poll were asked, "Despite everything that has happened, do you think the United States has done a good thing or a bad thing by sending our military to occupy Iraq?" Forty-six percent said commitment of troops was a good thing, 43 percent said it was a bad thing and 11 percent were undecided or gave other responses such as "it's too soon to tell" or "something had to be done, but it's been handled the wrong way."

Fifty-two percent said commitment of troops was "a good thing" in February's survey.

The survey also asked: "Would you like to see President Bush be re-elected to a second term, or is it time for someone new?" Forty percent said they would like to see the incumbent re-elected while 52 percent said it's time for a change in leadership; 8 percent were undecided.

The issue is more closely divided among registered voters who regularly participate in major elections. Forty-five percent of these active voters say they want Bush to be re-elected, while 50 percent say they want someone new; 5 percent were undecided.

The latest survey was conducted June 20-28 among 1,007 adult residents living in all 50 states and the District of Columbia. This and earlier polls were funded by a grant from the Scripps Foundation.

The margin of error is 4 percentage points for most of the questions, but rises to about 5 percent when focusing on the 522 registered voters who say they always cast ballots in major elections.

(Thomas Hargrove is a reporter for Scripps Howard)
----------------SNIP--------------------
Capitol Hill Blue is an excellent source of information on political matters in Washington DC.~Code

The FedEx Saga, 2 July 2004- Our little package continues
Well...day FOUR of the saga of our little FedEx package has found that over night...it made it's way to UT (Utah) to TN. Tracking shows
Jul 2, 2004 3:58 am

Left FedEx Sort Facility
MEMPHIS TN
3:58 am
----------------------------------

Left FedEx Sort Facility
MEMPHIS TN
1:42am
---------------------------------
Arrived at Sort Facility
MEMPHIS TN 12:41 am
--------------------------------------
So, between 12:41 am to 3:58am (roughly 3 hours)...
our little package was sitting around in Memphis Tennessee.

So, for those who have not kept up with our Little Package's FedEx
saga....it was turned over from our hands into FedEx hand's before noon on 29 June 2004 from a large city in central Texas, destined for a smaller city in NorthEast Texas, around 300 miles away. It was promised a next day delivery, before 3:30 pm Central Daylight Time.

If I had driven there personally, it would have taken me FOUR HOURS by CAR...and, I could have personally delivered it, within four hours SAME DAY DELIVERY. It HAD to be there on the 30th of June and I stressed that to FedEx. So...what happened? It went to Ft. Worth by the next morning (6:37 am) and sat in Fort Worth ALL DAY. After contacting FedEx, we got our money back when it did not make it there by 3:30 pm as promised, and they assured us, it would be at its destination before 10:30 AM on the First of July. Well, as we tracked it...our Little Package started a bizarre trek east.

On 1 July, 2004...it went from Ft. Worth to Dallas to Memphis TN to Shreveport LA and on to West Valley UTAH. Well, now it has made its way from West Valley Utah to Memphis TN again....

WHO KNOWS WHERE OUR LITTLE PACKAGE WILL GO NOW?

Started before noon on 29 June...here it is 2 July and it still is being sent around the country.

We are PROMISED that it will make it back to Texas, and to its destination, BEFORE 10:30 AM TODAY....It's 8:05 right now. They have LESS than 2.5 hours to get it from TN to north east Texas.

This Saga will be updated later.

Archives
Monday, May 03, 2004 Tuesday, May 04, 2004 Sunday, May 09, 2004 Tuesday, May 11, 2004 Wednesday, May 12, 2004 Friday, May 14, 2004 Saturday, May 15, 2004 Sunday, May 16, 2004 Monday, May 17, 2004 Tuesday, May 18, 2004 Wednesday, May 19, 2004 Thursday, May 20, 2004 Friday, May 21, 2004 Monday, May 24, 2004 Tuesday, May 25, 2004 Wednesday, May 26, 2004 Thursday, May 27, 2004 Friday, May 28, 2004 Saturday, May 29, 2004 Sunday, May 30, 2004 Tuesday, June 01, 2004 Wednesday, June 02, 2004 Thursday, June 03, 2004 Friday, June 04, 2004 Saturday, June 05, 2004 Sunday, June 06, 2004 Monday, June 07, 2004 Tuesday, June 08, 2004 Wednesday, June 09, 2004 Thursday, June 10, 2004 Friday, June 11, 2004 Sunday, June 13, 2004 Monday, June 14, 2004 Wednesday, June 16, 2004 Thursday, June 17, 2004 Friday, June 18, 2004 Sunday, June 20, 2004 Monday, June 21, 2004 Tuesday, June 22, 2004 Wednesday, June 23, 2004 Thursday, June 24, 2004 Friday, June 25, 2004 Saturday, June 26, 2004 Sunday, June 27, 2004 Tuesday, June 29, 2004 Wednesday, June 30, 2004 Thursday, July 01, 2004 Friday, July 02, 2004 Saturday, July 03, 2004 Sunday, July 04, 2004 Monday, July 05, 2004 Tuesday, July 06, 2004 Wednesday, July 07, 2004 Thursday, July 08, 2004 Friday, July 09, 2004 Saturday, July 10, 2004 Sunday, July 11, 2004 Monday, July 12, 2004 Tuesday, July 13, 2004 Wednesday, July 14, 2004 Thursday, July 15, 2004 Friday, July 16, 2004 Saturday, July 17, 2004 Sunday, July 18, 2004 Monday, July 19, 2004 Tuesday, July 20, 2004 Wednesday, July 21, 2004 Friday, July 23, 2004 Friday, July 30, 2004 Monday, August 02, 2004 Tuesday, August 03, 2004 Wednesday, August 04, 2004 Thursday, August 05, 2004 Friday, August 06, 2004 Saturday, August 07, 2004 Sunday, August 08, 2004 Tuesday, August 10, 2004 Wednesday, August 11, 2004 Thursday, August 12, 2004 Friday, August 13, 2004 Saturday, August 14, 2004 Sunday, August 15, 2004 Monday, August 16, 2004 Tuesday, August 17, 2004 Friday, August 20, 2004 Saturday, August 21, 2004 Tuesday, August 24, 2004 Wednesday, August 25, 2004 Thursday, August 26, 2004 Friday, August 27, 2004 Sunday, August 29, 2004 Monday, August 30, 2004 Wednesday, September 01, 2004 Thursday, September 02, 2004 Friday, September 03, 2004 Saturday, September 04, 2004 Sunday, September 05, 2004 Monday, September 06, 2004 Tuesday, September 07, 2004 Wednesday, September 08, 2004 Thursday, September 09, 2004 Friday, September 10, 2004 Saturday, September 11, 2004 Sunday, September 12, 2004 Monday, September 13, 2004 Tuesday, September 14, 2004 Wednesday, September 15, 2004 Friday, September 17, 2004 Saturday, September 18, 2004 Sunday, September 19, 2004 Tuesday, September 21, 2004 Wednesday, September 22, 2004 Thursday, September 23, 2004 Friday, September 24, 2004 Saturday, September 25, 2004 Monday, September 27, 2004 Tuesday, September 28, 2004 Wednesday, September 29, 2004 Thursday, September 30, 2004 Friday, October 01, 2004 Saturday, October 02, 2004 Sunday, October 03, 2004 Monday, October 04, 2004 Tuesday, October 05, 2004 Wednesday, October 06, 2004 Thursday, October 07, 2004 Friday, October 08, 2004 Saturday, October 09, 2004 Sunday, October 10, 2004 Tuesday, October 12, 2004 Wednesday, October 13, 2004 Thursday, October 14, 2004 Friday, October 15, 2004 Saturday, October 16, 2004 Sunday, October 17, 2004 Monday, October 18, 2004 Tuesday, October 19, 2004 Wednesday, October 20, 2004 Thursday, October 21, 2004 Friday, October 22, 2004 Saturday, October 23, 2004 Sunday, October 24, 2004 Monday, October 25, 2004 Tuesday, October 26, 2004 Wednesday, October 27, 2004 Thursday, October 28, 2004 Friday, October 29, 2004 Saturday, October 30, 2004 Sunday, October 31, 2004 Monday, November 01, 2004 Tuesday, November 02, 2004 Wednesday, November 03, 2004 Thursday, November 04, 2004 Friday, November 05, 2004 Saturday, November 06, 2004 Sunday, November 07, 2004 Monday, November 08, 2004 Tuesday, November 09, 2004 Wednesday, November 10, 2004 Thursday, November 11, 2004 Friday, November 12, 2004 Saturday, November 13, 2004 Sunday, November 14, 2004 Monday, November 15, 2004 Tuesday, November 16, 2004 Wednesday, November 17, 2004 Thursday, November 18, 2004 Friday, November 19, 2004 Saturday, November 20, 2004 Sunday, November 21, 2004 Monday, November 22, 2004 Thursday, November 25, 2004 Friday, November 26, 2004 Saturday, November 27, 2004 Sunday, November 28, 2004 Tuesday, November 30, 2004 Wednesday, December 01, 2004 Thursday, December 02, 2004 Friday, December 03, 2004 Saturday, December 04, 2004 Tuesday, December 07, 2004 Wednesday, December 08, 2004 Thursday, December 09, 2004 Friday, December 10, 2004 Saturday, December 11, 2004 Sunday, December 12, 2004 Monday, December 13, 2004 Tuesday, December 14, 2004 Wednesday, December 15, 2004 Thursday, December 16, 2004 Friday, December 17, 2004 Sunday, December 19, 2004 Monday, December 20, 2004 Friday, December 24, 2004 Saturday, December 25, 2004 Sunday, December 26, 2004 Wednesday, December 29, 2004 Thursday, December 30, 2004 Friday, December 31, 2004 Monday, January 03, 2005 Wednesday, January 05, 2005 Thursday, January 06, 2005 Saturday, January 08, 2005 Sunday, January 09, 2005 Tuesday, January 11, 2005 Wednesday, January 12, 2005 Thursday, January 13, 2005 Saturday, January 15, 2005 Wednesday, January 19, 2005 Friday, January 21, 2005 Saturday, January 22, 2005 Sunday, January 23, 2005 Monday, January 24, 2005 Wednesday, January 26, 2005 Thursday, January 27, 2005 Friday, January 28, 2005 Saturday, January 29, 2005 Monday, January 31, 2005 Thursday, February 03, 2005 Friday, February 04, 2005 Saturday, February 05, 2005 Sunday, February 06, 2005 Monday, February 07, 2005 Tuesday, February 08, 2005 Wednesday, February 09, 2005 Thursday, February 10, 2005 Friday, February 11, 2005 Saturday, February 12, 2005 Sunday, February 13, 2005 Tuesday, February 15, 2005 Thursday, February 17, 2005 Saturday, February 19, 2005 Sunday, February 20, 2005 Wednesday, February 23, 2005 Saturday, February 26, 2005 Sunday, February 27, 2005 Monday, February 28, 2005 Wednesday, March 02, 2005 Thursday, March 03, 2005 Sunday, March 06, 2005 Tuesday, March 08, 2005 Wednesday, March 09, 2005 Thursday, March 10, 2005 Friday, March 11, 2005 Saturday, March 12, 2005 Sunday, March 13, 2005 Monday, March 14, 2005 Tuesday, March 15, 2005 Wednesday, March 16, 2005 Thursday, March 17, 2005 Friday, March 18, 2005 Saturday, March 19, 2005 Thursday, March 24, 2005 Friday, March 25, 2005 Saturday, March 26, 2005 Sunday, March 27, 2005 Wednesday, March 30, 2005 Thursday, March 31, 2005 Friday, April 01, 2005 Saturday, April 02, 2005 Sunday, April 03, 2005 Wednesday, April 06, 2005 Thursday, April 07, 2005 Saturday, April 09, 2005 Sunday, April 10, 2005 Monday, April 11, 2005 Thursday, April 14, 2005 Saturday, April 16, 2005 Sunday, April 17, 2005 Monday, April 18, 2005 Wednesday, April 20, 2005 Thursday, April 21, 2005 Friday, April 22, 2005 Saturday, April 23, 2005 Sunday, April 24, 2005 Tuesday, April 26, 2005 Friday, April 29, 2005 Saturday, April 30, 2005 Sunday, May 01, 2005 Monday, May 02, 2005 Tuesday, May 03, 2005 Wednesday, May 04, 2005 Thursday, May 05, 2005 Friday, May 06, 2005 Sunday, May 08, 2005 Wednesday, May 11, 2005 Thursday, May 12, 2005 Friday, May 13, 2005 Sunday, May 15, 2005 Monday, May 16, 2005 Wednesday, May 18, 2005 Thursday, May 19, 2005 Friday, May 20, 2005 Saturday, May 21, 2005 Sunday, May 22, 2005 Monday, May 23, 2005 Tuesday, May 24, 2005 Wednesday, May 25, 2005 Thursday, May 26, 2005 Friday, May 27, 2005 Saturday, May 28, 2005 Sunday, May 29, 2005 Monday, May 30, 2005 Tuesday, May 31, 2005 Wednesday, June 01, 2005 Thursday, June 02, 2005 Friday, June 03, 2005 Saturday, June 04, 2005 Sunday, June 05, 2005 Monday, June 06, 2005 Tuesday, June 07, 2005 Wednesday, June 08, 2005 Thursday, June 09, 2005 Friday, June 10, 2005 Sunday, June 12, 2005 Tuesday, June 14, 2005 Thursday, June 16, 2005 Friday, June 17, 2005 Saturday, June 18, 2005 Sunday, June 19, 2005 Monday, June 20, 2005 Tuesday, June 21, 2005 Thursday, June 23, 2005 Saturday, June 25, 2005 Sunday, June 26, 2005 Tuesday, June 28, 2005 Wednesday, June 29, 2005 Thursday, June 30, 2005 Friday, July 01, 2005 Saturday, July 02, 2005 Monday, July 04, 2005 Wednesday, July 06, 2005 Thursday, July 07, 2005 Saturday, July 09, 2005 Sunday, July 10, 2005 Friday, July 15, 2005 Sunday, July 17, 2005 Tuesday, July 19, 2005 Wednesday, July 20, 2005 Thursday, July 21, 2005 Saturday, July 23, 2005 Sunday, July 24, 2005 Tuesday, August 02, 2005 Thursday, August 04, 2005 Friday, August 05, 2005 Saturday, August 13, 2005 Wednesday, August 24, 2005 Friday, August 26, 2005 Saturday, August 27, 2005 Saturday, September 03, 2005 Wednesday, September 07, 2005 Thursday, September 08, 2005 Saturday, September 24, 2005 Wednesday, September 28, 2005 Wednesday, October 19, 2005 Thursday, October 20, 2005 Friday, October 21, 2005 Sunday, October 23, 2005 Wednesday, November 02, 2005 Monday, November 21, 2005 Wednesday, November 23, 2005 Friday, December 02, 2005 Saturday, December 10, 2005 Saturday, December 17, 2005 Sunday, December 18, 2005 Monday, December 19, 2005 Wednesday, December 21, 2005 Wednesday, January 04, 2006 Friday, January 06, 2006 Monday, January 09, 2006 Monday, January 16, 2006 Tuesday, January 17, 2006 Friday, January 20, 2006 Sunday, January 22, 2006 Saturday, January 28, 2006 Tuesday, January 31, 2006 Wednesday, February 01, 2006 Thursday, February 02, 2006 Wednesday, February 08, 2006 Thursday, February 09, 2006 Friday, February 10, 2006 Saturday, February 11, 2006 Sunday, February 12, 2006 Monday, February 13, 2006 Tuesday, February 14, 2006 Wednesday, February 15, 2006 Thursday, February 16, 2006 Saturday, February 18, 2006 Monday, February 20, 2006 Wednesday, February 22, 2006 Thursday, February 23, 2006 Sunday, March 05, 2006 Tuesday, March 07, 2006 Friday, March 24, 2006 Saturday, March 25, 2006 Wednesday, April 05, 2006 Thursday, April 06, 2006 Friday, April 07, 2006 Saturday, April 08, 2006 Tuesday, April 11, 2006 Monday, April 17, 2006 Tuesday, April 25, 2006 Thursday, April 27, 2006 Tuesday, May 09, 2006 Friday, May 12, 2006 Saturday, May 13, 2006 Sunday, May 14, 2006 Monday, May 15, 2006 Tuesday, May 16, 2006 Thursday, May 18, 2006 Friday, May 26, 2006 Sunday, May 28, 2006 Monday, May 29, 2006 Wednesday, May 31, 2006 Thursday, June 01, 2006 Sunday, June 04, 2006 Monday, June 05, 2006 Friday, June 09, 2006 Saturday, June 10, 2006 Sunday, June 11, 2006 Friday, June 16, 2006 Monday, June 19, 2006 Friday, June 23, 2006 Sunday, June 25, 2006 Tuesday, June 27, 2006 Wednesday, June 28, 2006 Friday, June 30, 2006 Sunday, July 09, 2006 Thursday, July 13, 2006 Friday, July 14, 2006 Saturday, July 15, 2006 Monday, July 17, 2006 Tuesday, July 18, 2006 Wednesday, July 19, 2006 Tuesday, July 25, 2006 Wednesday, July 26, 2006 Friday, July 28, 2006 Sunday, July 30, 2006 Monday, July 31, 2006 Thursday, August 03, 2006 Friday, August 04, 2006 Sunday, August 06, 2006 Monday, August 07, 2006 Wednesday, August 09, 2006 Thursday, August 10, 2006 Sunday, August 13, 2006 Tuesday, August 15, 2006 Thursday, August 17, 2006 Friday, August 18, 2006 Wednesday, September 06, 2006 Friday, September 08, 2006 Monday, September 11, 2006 Wednesday, September 13, 2006 Thursday, September 14, 2006 Friday, September 22, 2006 Saturday, September 23, 2006 Sunday, October 01, 2006 Tuesday, October 03, 2006 Monday, October 30, 2006 Monday, November 06, 2006 Tuesday, November 07, 2006 Sunday, November 12, 2006 Tuesday, November 21, 2006 Wednesday, November 22, 2006 Thursday, November 23, 2006 Friday, December 01, 2006 Monday, December 04, 2006 Tuesday, December 05, 2006 Thursday, December 14, 2006 Wednesday, December 20, 2006 Thursday, December 21, 2006 Friday, December 29, 2006 Wednesday, January 10, 2007 Thursday, January 11, 2007 Saturday, January 13, 2007 Monday, January 15, 2007 Wednesday, January 17, 2007 Saturday, January 20, 2007 Tuesday, January 23, 2007 Tuesday, February 20, 2007 Saturday, February 24, 2007 Sunday, February 25, 2007 Friday, March 23, 2007 Wednesday, April 04, 2007 Tuesday, April 10, 2007 Thursday, April 12, 2007 Friday, April 13, 2007 Thursday, April 19, 2007 Friday, April 20, 2007 Tuesday, April 24, 2007 Tuesday, May 08, 2007 Thursday, May 10, 2007 Friday, May 11, 2007 Monday, May 14, 2007 Tuesday, May 15, 2007 Sunday, May 20, 2007 Monday, May 21, 2007 Tuesday, May 22, 2007 Wednesday, May 23, 2007 Thursday, May 24, 2007 Sunday, May 27, 2007 Wednesday, May 30, 2007 Thursday, May 31, 2007 Friday, June 01, 2007 Monday, June 04, 2007 Wednesday, June 06, 2007 Saturday, June 09, 2007 Sunday, June 10, 2007 Monday, June 11, 2007 Friday, June 15, 2007 Tuesday, June 19, 2007 Tuesday, June 26, 2007 Wednesday, June 27, 2007 Thursday, June 28, 2007 Saturday, June 30, 2007 Monday, July 02, 2007 Tuesday, July 03, 2007 Friday, July 06, 2007 Tuesday, July 10, 2007 Friday, July 13, 2007 Tuesday, July 24, 2007 Saturday, July 28, 2007 Sunday, July 29, 2007 Monday, August 13, 2007 Sunday, August 19, 2007 Saturday, August 25, 2007 Monday, August 27, 2007 Wednesday, August 29, 2007 Friday, August 31, 2007 Friday, September 07, 2007 Wednesday, September 12, 2007 Wednesday, September 19, 2007 Friday, September 21, 2007 Friday, September 28, 2007 Tuesday, October 02, 2007 Thursday, October 11, 2007 Saturday, October 27, 2007 Thursday, November 01, 2007 Saturday, November 03, 2007 Monday, November 05, 2007 Wednesday, November 28, 2007 Tuesday, December 04, 2007 Tuesday, December 11, 2007 Friday, December 14, 2007 Friday, December 21, 2007 Tuesday, December 25, 2007 Saturday, December 29, 2007 Monday, January 07, 2008 Thursday, January 10, 2008 Saturday, January 12, 2008 Sunday, January 13, 2008 Tuesday, January 15, 2008 Friday, January 18, 2008 Saturday, January 19, 2008 Friday, January 25, 2008 Sunday, January 27, 2008 Monday, January 28, 2008 Tuesday, January 29, 2008 Sunday, February 03, 2008 Wednesday, February 06, 2008 Friday, February 08, 2008 Sunday, February 10, 2008 Monday, February 11, 2008 Tuesday, February 12, 2008 Monday, February 25, 2008 Tuesday, February 26, 2008 Monday, March 03, 2008 Tuesday, March 04, 2008 Saturday, March 22, 2008 Saturday, April 19, 2008 Wednesday, April 23, 2008 Saturday, April 26, 2008 Wednesday, April 30, 2008 Monday, May 05, 2008 Tuesday, May 13, 2008 Wednesday, May 14, 2008 Saturday, May 17, 2008 Tuesday, May 20, 2008 Saturday, May 24, 2008 Sunday, May 25, 2008 Thursday, June 12, 2008 Tuesday, June 17, 2008 Saturday, July 05, 2008 Tuesday, July 08, 2008 Monday, August 04, 2008 Thursday, August 28, 2008 Thursday, September 11, 2008 Saturday, September 20, 2008 Monday, September 22, 2008 Tuesday, September 23, 2008 Wednesday, September 24, 2008 Friday, September 26, 2008 Monday, September 29, 2008 Saturday, October 04, 2008 Wednesday, October 08, 2008 Thursday, October 09, 2008 Sunday, October 12, 2008 Wednesday, October 15, 2008 Wednesday, October 22, 2008 Thursday, October 23, 2008 Friday, October 24, 2008 Tuesday, October 28, 2008 Wednesday, October 29, 2008 Monday, November 03, 2008 Tuesday, November 04, 2008 Thursday, November 06, 2008 Saturday, November 08, 2008 Monday, November 10, 2008 Wednesday, November 19, 2008 Thursday, December 18, 2008 Monday, December 22, 2008 Sunday, January 11, 2009 Thursday, January 22, 2009 Monday, January 26, 2009 Thursday, February 19, 2009 Tuesday, February 24, 2009 Friday, February 27, 2009 Monday, March 02, 2009 Thursday, March 05, 2009 Wednesday, March 11, 2009 Thursday, March 12, 2009 Friday, March 13, 2009 Thursday, March 19, 2009 Monday, March 23, 2009 Friday, March 27, 2009 Saturday, March 28, 2009 Sunday, March 29, 2009 Thursday, April 02, 2009 Tuesday, April 07, 2009 Tuesday, April 14, 2009 Tuesday, April 21, 2009 Thursday, April 23, 2009 Saturday, April 25, 2009 Sunday, May 03, 2009 Wednesday, May 06, 2009 Tuesday, May 12, 2009 Wednesday, May 13, 2009 Thursday, May 14, 2009 Sunday, May 17, 2009 Tuesday, May 26, 2009 Wednesday, June 03, 2009 Thursday, June 04, 2009 Tuesday, June 09, 2009 Friday, June 12, 2009 Saturday, June 13, 2009 Sunday, June 14, 2009 Monday, June 22, 2009 Thursday, June 25, 2009 Saturday, July 11, 2009 Tuesday, July 14, 2009 Friday, July 24, 2009 Tuesday, August 18, 2009 Wednesday, August 19, 2009 Friday, August 21, 2009 Monday, August 24, 2009 Thursday, September 03, 2009 Wednesday, September 09, 2009 Thursday, September 10, 2009 Sunday, September 13, 2009 Monday, September 14, 2009 Tuesday, September 15, 2009 Wednesday, September 23, 2009 Friday, September 25, 2009 Sunday, September 27, 2009 Tuesday, September 29, 2009 Monday, November 02, 2009 Tuesday, November 10, 2009 Thursday, November 12, 2009 Tuesday, November 24, 2009 Thursday, February 25, 2010 Thursday, March 04, 2010 Wednesday, March 17, 2010 Tuesday, March 23, 2010 Friday, April 09, 2010 Friday, April 16, 2010 Wednesday, April 21, 2010 Thursday, April 22, 2010 Friday, April 23, 2010 Thursday, April 29, 2010 Sunday, May 02, 2010 Friday, May 07, 2010 Sunday, May 09, 2010 Monday, May 10, 2010 Tuesday, May 11, 2010 Tuesday, June 15, 2010