Copyright Notice
- All original comments are © Copyright 2004 by CodeWarrior. All rights are reserved. All quoted material unless in public domain, are the copyrighted works of the respective copyright holders, and all referenced trademarks are respectively owned by the relevant trademark holder. No attempt nor intention is made by this author to dilute any trademark or infringe any copyrighted material. All materials used on this page not copyrighted by CodeWarrior, are held to be used for non-commercial , personal, fair use purposes. All declaratoy statements not manifestly,contextually or perceptually, intended to be sarcastic, ironic, or parody in nature, are asserted to be true and correct by the author of this blog, as far as could be determined given the information available to the author at the time the post was written. Unauthorized reproduction of material on this page is prohibited, unless such limited reproduction falls under fair use, and such use is authorized if proper attribution of the source of the material, and author is credited in all instances of its usage.
SEARCH THIS SITE USING KEYWORDS
Powered by:

CodeWarriorZ BlueZ
CodeWarriorz Thoughts
Day to day musings of free speech activist CodeWarrior.
CHECK OUT THE WEBSITE OF MY PAL SHMOO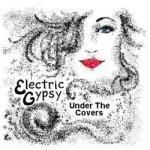 Monday, November 01, 2004
CNN.com - Judge bars challengers at Ohio polls - Nov 1, 2004
Judge bars challengers at Ohio polls
State GOP says it will appeal ruling
Monday, November 1, 2004 Posted: 11:41 AM EST (1641 GMT)
Citizens marched last week at the Ohio state capitol in Columbus, in a rally sponsored by the Ohio Voter Protection Coalition.
$150,000 Mortgage for $610/Month
Refinance your home and save thousands. Compare up to 4 free quotes.
www.lowermybills.com
Compare Mortgage Offers
Get up to 4 free mortgage/refinance quotes or home equity loan offers now from 1...
www2.nextag.com
LendingTree.com - Official Site
Lendingtree - Find a mortgage, refinance, home equity or auto loan now. Receive...
www.lendingtree.com
Hundreds of Online Degree Programs
Search our directory of online degree programs. Associate, Bachelor, Master and...
www.direct-edu.com
ON CNN TV
Paula's special election-eve showdown-state program in Kissimmee, Florida, continues for another hour. Watch this town-hall event at 11 p.m. ET Monday.
• "Paula Zahn Now"
VIDEO
CNN's Bruce Burkhardt on the nonvoters and who they are.
PLAY VIDEO
--------------------------------------------------------------------------------
CNN's Kelly Wallace on John Kerry's approach to the last campaign day.
PLAY VIDEO
--------------------------------------------------------------------------------
CNN's Dana Bash on President Bush going into Monday.
PLAY VIDEO
RELATED
Today's focus: End of the road
--------------------------------------------------------------------------------
• Interactive: New poll results
• Campus Vibe: New voters
• Follow the candidates: Tracker
• Explainer: Showdown states
YOUR E-MAIL ALERTS
America Votes 2004
or Create your own
Manage alerts | What is this?
CINCINNATI, Ohio (CNN) -- A federal judge Monday barred political party challengers from questioning Ohio voters' registrations at the polls on Election Day.
The state Republican Party immediately said it would challenge the judge's ruling in hopes of having the order overturned in time for Tuesday's election in Ohio, an important battleground state that could throw the presidential contest either way. (Showdown state Ohio, Electoral College explainer)
Polls show President Bush and his Democratic rival Sen. John Kerry virtually tied. Ohio is among six battleground states showing voters almost evenly split in a CNN/USA Today/Gallup Poll released Sunday (CNN.com Poll Tracker, opinion poll figures)
The Republican Party has said it wants its challengers at polls to prevent voter fraud, as allowed by state law.
Following a rare Sunday night hearing on the issue, U.S. District Judge Susan J. Dlott said that allowing inexperienced challengers to question voters' registrations at the polls would disrupt the election process.
According to the judge's ruling, Republicans in Ohio filed "for hundreds of challengers to be physically present in the polling places in order to challenge voters' eligibility."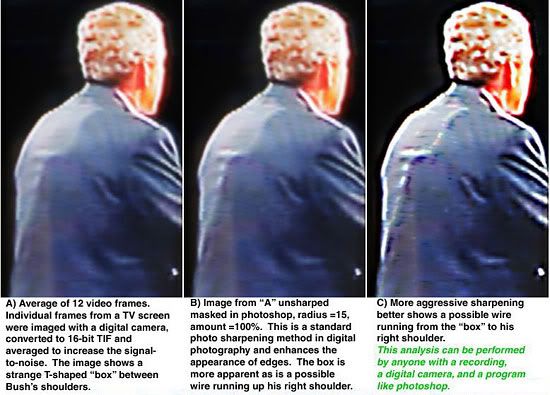 NASA photo analyst: Bush wore a device during debate
Physicist says imaging techniques prove the president's bulge was not caused by wrinkled clothing.
Salon.com News | NASA photo analyst: Bush wore a device during debate
Oct. 29, 2004 | George W. Bush tried to laugh off the bulge. "I don't know what that is," he said on "Good Morning America" on Wednesday, referring to the infamous protrusion beneath his jacket during the presidential debates. "I'm embarrassed to say it's a poorly tailored shirt."
Dr. Robert M. Nelson, however, was not laughing. He knew the president was not telling the truth. And Nelson is neither conspiracy theorist nor midnight blogger. He's a senior research scientist for NASA and for Caltech's Jet Propulsion Laboratory, and an international authority on image analysis. Currently he's engrossed in analyzing digital photos of Saturn's moon Titan, determining its shape, whether it contains craters or canyons.
Is Bush Wired?
The Dark Side of the Moon
A NASA senior research physicist, who's an international authority on planetary topographical image analysis, has been spending his nights analyzing the topography of Bush's back in the first debate. He tells Salon the obvious, that a wrinkle couldn't possibly have produced the bulge. What he can't explain, I suppose, is why the rest of the press, with the honorable exception of CNN's Paula Zahn, is abdicating its ethical responsibility to report this story, leaving it to Salon and to bloggers. It makes me feel sick for my profession. Anyway, look at the pictures the analyst sharpened for the clearest view yet of all the president's wires.
Update 10/31: I feel even sicker after reading Dave Lindorff's comprehensive update at MotherJones.com reporting, among other things, how the NASA scientist, Robert M. Nelson, was rebuffed when he offered his analysis to major newspapers (The New York Times, The Los Angeles Times, and The Washington Post). Nelson has now analyzed Bush's ever-evolving back bulge from all three debates, and tells MotherJones.com, "In the first debate the bulges create the impression of a letter T with a small feature which appears similar to a wire under the jacket running upward from the right. In the second and third debates the jacket has a generally padded shape across a large part of the entire back which tapers inward toward the spine in a downward direction. This is consistent with the hypothesis that a pad was inserted to conceal the T-shaped device seen in the first debate."
Spy pro's take on Bush bulge
Spy pro's take on Bush bulge
David Lazarus
Friday, October 29, 2004
Printable Version
Email This Article
Politics
Each side finds positive news in polls (11/1)
Control of the Senate is at stake (11/1)
Religious voters torn between candidates (11/1)
Saudi native makes pioneering run from Ventura (11/1)
Dems less confident that election will be fair (11/1)
M&R: California's North-South split now East-West (11/1)
Johnson: Supervisor's turnaround on pot clubs (11/1)
Boxer closes in for the knockout (11/1)
'Pre-voters' stroll in Oakland political rally (11/1)
DBay Area voter information and election day Q&A (11/1)
Editorial: Get ready for election week (11/1)
Garcia: Mayor Jerry Brown makes the tough call (11/1)
Eminem's angst-filled video might actually get youth to the polls (11/1)
Lara: Maybe Californians should hoard our electoral gold until candidates' interest rises. (11/1)
Chronicle endorsements
More Stories
Politics Page
David Lazarus
Lazarus At Large Archives
What war funding could buy
10/31/2004
Spy pro's take on Bush bulge
10/29/2004
Rough ride for airlines
10/27/2004
The Internet, as it will, has been buzzing for weeks about that mysterious bulge under President Bush's jacket during his first debate with Sen. John Kerry. Was it an electronic receiver? Was Bush being coached via a hidden earpiece?
The president finally responded to the speculation this week by insisting that the bulge was in no way an electronic device. "I'm embarrassed to say it's a poorly tailored shirt," he told a TV interviewer.
Jason Woodside, owner of San Francisco's International Spy Shop, the Bay Area's sole purveyor of espionage and counterespionage gear, could only shake his head when told of Bush's explanation.
"A poorly tailored shirt," he said. "It's possible. But it looks like a wireless induction system. It looks like this."
Woodside held up a picture of a small, rectangular receiver, about the same size as the device Bush is alleged to have worn. It comes with an antenna that's looped around the neck and a wireless earpiece.
"We sold one like this just two weeks ago," Woodside said. "It's easy to set up, fast. Costs about $1,500."
Whether or not the president was actually wearing such a getup -- and it's a theory that's failed to get much traction beyond the blog squad -- Bush's bulge highlights the nervous nature of Woodside's business.
In this line of work, companies routinely spy on employees. Husbands and wives spy on philandering spouses. Parents spy on potentially abusive nannies.
Woodside, 30, a former private investigator, inhabits a decidedly paranoid world.
"I live in the real world," he retorted.
To prove his point, Woodside opened his laptop computer and called up a map of the region. A small blip could be seen moving at 45 miles per hour along Highway 1 near Santa Cruz.
Woodside explained that a client had instructed him to attach a global- positioning-system transceiver to the family car. The client was suspicious about his wife's activities while he was at work.
"I've been following her for a few weeks now," Woodside said as, unbeknownst to the woman behind the wheel, her car's movements were tracked via satellite. "We learned where she goes, the hotels where she stops."
So her husband was right.
"He was right," Woodside agreed, adding that it's now up to the client whether he wants to go the next step and have the International Spy Shop provide photographic evidence confirming his wife's extracurricular activities.
Woodside, a self-professed "gadget guy," started his business in 1999 at a South-of-Market location. As sales steadily increased, he moved last year to a higher-profile venue near Fisherman's Wharf.
The serious surveillance stuff still accounts for about 80 percent of revenue, Woodside said. But with tourists now coming through the door every day, he's added a snack bar and T-shirts, and a rack selling spy toys for kids.
Paraphernalia from James Bond movies can be found throughout the store. Soft jazz plays in the background.
Inside the glass cases are exotica such as a picture frame containing a hidden camera that sells for $549, and a motion-activated camera tucked inside a clock radio that goes for $1,500.
There's a 180,000-volt stun gun masquerading as a cell phone that sells for $150, and a pen-size bug detector going for $259.
"Look at this," Woodside said, holding up what appeared to be an ordinary pager. "It will vibrate if you get close to a listening device. It's for executives."
Along these lines, he said the International Spy Shop routinely sends teams to Bay Area companies, hotels and homes to sweep for bugs and other surveillance devices. A sweep of 2,000 square feet or less will cost about $3, 500.
Woodside won't say how much his business pulls down each year. "That's confidential," he insisted. He will acknowledge, though, that the firm is profitable.
As for Bush's bulge, conspiracy theorists point to the president's strange declaration of "let me finish" in the middle of a debate answer, while he still had plenty of time to speak. Was he in fact responding to a voice in his ear?
Bush had been discussing the quality of intelligence he received on Iraq but got sidetracked with criticism of Kerry's purported position changes on the war.
I replayed the moment online. It is a little weird how the "let me finish" line pops out as Bush stammers during his remarks. But he could just as easily have been responding to some distraction at the event.
Meanwhile, Georges de Paris, who has been tailoring suits for every president since Lyndon Johnson, obligingly demonstrated for the Hill newspaper in Washington how the jacket Bush was wearing could have gotten bunched up in the back.
"The same thing will happen anytime you cross your arms like Bush did," he was quoted as saying. "It causes the back of the jacket to pucker along the seam."
Woodside isn't so sure. He pointed at a picture from the debate, in which the material of the president's jacket appears taut and unpuckered.
"Here's the receiver," Woodside said, tracing the outline of the rectangular bulge on Bush's back. "Here's the antenna," he said, moving his finger along what appears to be a line from the bulge to Bush's right shoulder.
Woodside nodded to himself. "My gut tells me he's got something on him."
Could it have come from Woodside's own store?
"I sell them," he replied. "But I don't think there's any relation between what I've sold and what the president is wearing."
Woodside smiled enigmatically.
"But what do I know?" he said.
t r u t h o u t - Marjorie Cohn | Bush and Bin Laden
Tuesday 02 November 2004
To announce that there must be no criticism of the President, or that we are to stand by the President, right or wrong, is not only unpatriotic and servile, but is morally treasonable to the American public.
- Theodore Roosevelt, May 7, 1918
George W. Bush was shocked, shocked, that John Kerry raised political questions in response to Osama bin Laden's cameo election appearance on Al Jazeera television. Yet Bush surrounded himself at a campaign stop in Manchester, N.H. with victims of the September 11 terrorist attacks, and repeated his mantra that the nation was forever changed by September 11th. Is Bush correct when he makes those statements? Will historians some day look back on September 11, 2001, as a pivot point in U.S., or even world history? Or is Bush the politician using that dark day to maneuver himself into a second term in the White House?
Whether we like to admit it or not, the havoc that Bin Laden wrought on 9/11 has been squarely at the center of the national discourse for the past three years, and indeed, of this election campaign. Americans remain frightened of another attack, even though Bin Laden lives in a cave half way around the world. The level of fear in this country seems disproportional to the threat. Bin Laden has no air force and no navy. He controls a relatively small, ragtag army. Yet, he and his handful of suicide bombers have so terrified the country with the most powerful military in the history of the world, that fear of him seems to dominate our political landscape.
So, is George W. Bush truly focused on protecting the U.S. from Bin Laden? A few days after the 9/11 attacks, Bush assured us he would hunt down Bin Laden and get him "dead or alive." But a short five months later, Bush had become preoccupied with invading Iraq, a country that had never attacked the United States, and posed no threat to us.
Bush no longer had Bin Laden in his sights. In March 2002, Bush said: "So I don't know where he is ... Nor - you know, I just don't spend that much time on him really, to be honest with you. I... I truly am not that concerned about him." Lacking any hard evidence that Saddam Hussein played a role in the 9/11 attacks, Bush nevertheless insisted the war on terrorism was centered in Iraq. Out of sight, out of mind.
Much to Bush's chagrin, Bin Laden re-took the world stage four days before the U.S. election. The Bush administration spent half a day trying to convince Al Jazeera and the Qatar government to keep the videotape of Bin Laden off the air.
Sitting there demurely, the white-robed terrorist calmly discussed our election on television sets from Maine to California. His very presence emphasized Bush's failure to keep his pledge to take Bin Laden dead or alive. Bin Laden seemed intent on humiliating Bush. He said that, by continuing to sit in a classroom as a girl read about a goat when the twin towers were hit, Bush left 50,000 of his people in the towers "to face those events by themselves when they were in the most urgent need of their leader."
Bin Laden also seemed intent on discrediting Bush. He said Bush is distorting and misleading the American people, obscuring the reasons underlying the 9/11 attacks. Bin Laden cited "Bush's claims that we hate freedom." If that's true, Bin Laden asked, why didn't we hit Sweden?
Bin Laden stated the motives for his evil deeds: U.S. support for Israel's oppression of the Palestinians, and Israel's 1982 attack on Lebanon. He bemoaned the killing of Iraqi children, and accused Bush of removing Saddam Hussein from power for the purpose of stealing Iraq's oil. Bin Laden drew an analogy between Bush's regime and the corrupt Arab regimes, recalling the first President Bush's cozy relationship with the Saudi royal family. Bin Laden argued that the Patriot Act has brought tyranny and suppression of freedom to the United States.
Finally, Bin Laden said our security is not in the hands of Kerry or Bush or Al Qaeda. "Your security is in your own hands," he said. "Any nation that does not attack us will not be attacked." Bin Laden told us how to avoid another attack: Lay off my people. Not mindful of the wise old adage, "know thy enemy," however, Bush responded by saying we "will not be intimidated or influenced by an enemy of our country."
Appealing to the American people instead of the U.S. government, Bin Laden challenged Americans to challenge the policies that oppress people in the Muslim world. The Spaniards accepted a similar challenge, when, days after suspected Al Qaeda followers blew up commuter trains in Madrid, the people in Spain went to the polls and unseated the leaders who had taken their troops into Iraq. The newly elected government pulled the Spanish soldiers out of Iraq shortly thereafter.
Why does Bin Laden seem intent on humiliating Bush? At the heart of Bin Laden's grievances is revulsion at the humiliation of Arabs and Muslims. Bin Laden has undoubtedly seen the photograph of the elderly Iraqi woman, leashed and made to crawl on the floor like a dog. He has likely seen, as well, the picture of a mound of naked Iraqis being mocked by U.S. soldiers. And he probably is aware of Staff Sgt. Ivan "Chip" Frederick's response when asked last week why he abused an Iraqi man: "just to humiliate him."
Bush and Bin Laden have mutually empowered each other since 9/11. By attacking the United States on Bush's watch, Bin Laden handed Bush the perpetual weapon of fear-mongering to hold over the heads of the American people. And by invading Iraq, Bush all but invited Al Qaeda to enter Iraq and wage jihad against the U.S. invaders. For this, George W. Bush and Osama bin Laden will be inextricably linked in the history books.
Whoever wins the election on November 2, we have our work cut out for us.
--------------------------------------------------------------------------------
Marjorie Cohn, a contributing editor to t r u t h o u t, is a professor at Thomas Jefferson School of Law, executive vice president of the National Lawyers Guild, and the U.S. representative to the executive committee of the American Association of Jurists.
============SNIP==============
EXCELLENT
I'm Ashamed of Kevin Costner
I've always like Kevin Costner's movies, but, I must admit that I was ashamed of his appearance on Bill Mahrer's REAL TIME on HBO. He was defending George Bush and Ann Coulter, and claimed he didn't know who he would be voting for, and characterized the two candidates as both very intelligent men.

Sorry Kevin, but given your appearance, I will have to think long and hard about patronizing your next film.

NOTE- EDITORIAKL COMMENT FROM CODEWARRIORZ
NORMALLY, I AM 100 PERCENT BEHIND DOUG THOMPSON'S RANTS...BUT
ON THIS ONE...WE HAVE TO VOTE...WE CANNOT STAND FOUR MORE YEARS
OF THE IDIOT BUSHY....( LAURA CALLS HIM BUSHY)..THAT SAID...I FIND MYSELF AGREEING WITH THE ARTICLE IN MOST WAYS!
Capitol Hill Blue: Go Ahead. Waste Your Time and Vote
Go Ahead. Waste Your Time and Vote
By DOUG THOMPSON
Nov 1, 2004, 05:58
Email this article
Printer friendly page
It's time to make up your mind and vote.
You've analyzed all the issues, studied the candidates, calculated which one - if any - will make a difference in your life and you're ready to go into the voting booth on Tuesday and exercise your democratic right to vote.
Go ahead. Vote. Waste your time. It won't make a bit of difference.
Excuse my cynicism but only a blithering idiot can possibly believe it will make one ounce of difference if we replace one son of privilege with another at 1600 Pennsylvania Avenue or if one corrupt political party replaces another in the leadership of Congress.
Voting is a sham, an exercise in deception designed to perpetuate the myth that an average American has any say in how this country is governed or what happens to you and me in the future.
Replacing George W. Bush with John Kerry won't change how things are done in Washington. Kerry will still be stuck with a war in Iraq that we can't win, a economy that rises and falls on its own and a Congress that would rather stall in bitter partisan gridlock than do anything to deal with the real issues that face this nation.
If Democrats take control of the House or Senate or both, the margin will still be razor thin and the minority party, be it Republican or Democrat, will still be able to deadlock Congress.
The answer to this nation's ills won't be found in replacing one set of political hacks for another. It doesn't matter which party controls the White House or Congress as long as both parties put their own interests above that of the nation.
America's current system of government is a bloated, aging, belching sow - laid low by decades of corruption, deceit and inaction. The sow is non-partisan, willing to wallow in the mud under a Democratic or Republican flag. It exists only to feed on the gullibility of Americans.
The problems that face America are many; the corruption eats at the guts of our society, destroying it like a cancer.
Continuing to live with that cancer is not an option. It must be eradicated, cut out of the body politic before the body dies.
You can't fix it in the voting booth. You can't eradicate it by continuing to support a political system that thrives on it.
The only answer is change - radical change of the system that continues to deliver a corrupt government run by corrupt men and women elected by a flawed system.
America is no longer the beautiful. We are no longer the land of the free and the brave are dying in a far-off land because a inadequate system of government allowed a incompetent man to wage war for false reasons.
Sadly, the vote you cast tomorrow won't change any of that. It won't restore beauty to this once-great land. It won't restore freedom and it won't stop the carnage in Iraq.
The faces may change but the problems remain. Anybody who thinks their vote changes that left their brain outside before they entered the polling booth.
The Fallibility of Voter Polls
I saw a New York Times/CBS poll, which breaks down the percentage of people in different demographic groups who are for Bush or Kerry. It broke the groups down with respect to income, religion, race, gender, education...etc..

According to this poll, taking together the different groups I belong to, I should be almost , FOR SURE, 99.9999 for BUSH.

Anyone reading this blog for one day, will know how laughable that notion is...and my vote has already been cast for Kerry for President and libertarians for everything else.

So, don't necessarily believe in the reliablity of the polls you see and how much Bush is ahead.

Archives
Monday, May 03, 2004 Tuesday, May 04, 2004 Sunday, May 09, 2004 Tuesday, May 11, 2004 Wednesday, May 12, 2004 Friday, May 14, 2004 Saturday, May 15, 2004 Sunday, May 16, 2004 Monday, May 17, 2004 Tuesday, May 18, 2004 Wednesday, May 19, 2004 Thursday, May 20, 2004 Friday, May 21, 2004 Monday, May 24, 2004 Tuesday, May 25, 2004 Wednesday, May 26, 2004 Thursday, May 27, 2004 Friday, May 28, 2004 Saturday, May 29, 2004 Sunday, May 30, 2004 Tuesday, June 01, 2004 Wednesday, June 02, 2004 Thursday, June 03, 2004 Friday, June 04, 2004 Saturday, June 05, 2004 Sunday, June 06, 2004 Monday, June 07, 2004 Tuesday, June 08, 2004 Wednesday, June 09, 2004 Thursday, June 10, 2004 Friday, June 11, 2004 Sunday, June 13, 2004 Monday, June 14, 2004 Wednesday, June 16, 2004 Thursday, June 17, 2004 Friday, June 18, 2004 Sunday, June 20, 2004 Monday, June 21, 2004 Tuesday, June 22, 2004 Wednesday, June 23, 2004 Thursday, June 24, 2004 Friday, June 25, 2004 Saturday, June 26, 2004 Sunday, June 27, 2004 Tuesday, June 29, 2004 Wednesday, June 30, 2004 Thursday, July 01, 2004 Friday, July 02, 2004 Saturday, July 03, 2004 Sunday, July 04, 2004 Monday, July 05, 2004 Tuesday, July 06, 2004 Wednesday, July 07, 2004 Thursday, July 08, 2004 Friday, July 09, 2004 Saturday, July 10, 2004 Sunday, July 11, 2004 Monday, July 12, 2004 Tuesday, July 13, 2004 Wednesday, July 14, 2004 Thursday, July 15, 2004 Friday, July 16, 2004 Saturday, July 17, 2004 Sunday, July 18, 2004 Monday, July 19, 2004 Tuesday, July 20, 2004 Wednesday, July 21, 2004 Friday, July 23, 2004 Friday, July 30, 2004 Monday, August 02, 2004 Tuesday, August 03, 2004 Wednesday, August 04, 2004 Thursday, August 05, 2004 Friday, August 06, 2004 Saturday, August 07, 2004 Sunday, August 08, 2004 Tuesday, August 10, 2004 Wednesday, August 11, 2004 Thursday, August 12, 2004 Friday, August 13, 2004 Saturday, August 14, 2004 Sunday, August 15, 2004 Monday, August 16, 2004 Tuesday, August 17, 2004 Friday, August 20, 2004 Saturday, August 21, 2004 Tuesday, August 24, 2004 Wednesday, August 25, 2004 Thursday, August 26, 2004 Friday, August 27, 2004 Sunday, August 29, 2004 Monday, August 30, 2004 Wednesday, September 01, 2004 Thursday, September 02, 2004 Friday, September 03, 2004 Saturday, September 04, 2004 Sunday, September 05, 2004 Monday, September 06, 2004 Tuesday, September 07, 2004 Wednesday, September 08, 2004 Thursday, September 09, 2004 Friday, September 10, 2004 Saturday, September 11, 2004 Sunday, September 12, 2004 Monday, September 13, 2004 Tuesday, September 14, 2004 Wednesday, September 15, 2004 Friday, September 17, 2004 Saturday, September 18, 2004 Sunday, September 19, 2004 Tuesday, September 21, 2004 Wednesday, September 22, 2004 Thursday, September 23, 2004 Friday, September 24, 2004 Saturday, September 25, 2004 Monday, September 27, 2004 Tuesday, September 28, 2004 Wednesday, September 29, 2004 Thursday, September 30, 2004 Friday, October 01, 2004 Saturday, October 02, 2004 Sunday, October 03, 2004 Monday, October 04, 2004 Tuesday, October 05, 2004 Wednesday, October 06, 2004 Thursday, October 07, 2004 Friday, October 08, 2004 Saturday, October 09, 2004 Sunday, October 10, 2004 Tuesday, October 12, 2004 Wednesday, October 13, 2004 Thursday, October 14, 2004 Friday, October 15, 2004 Saturday, October 16, 2004 Sunday, October 17, 2004 Monday, October 18, 2004 Tuesday, October 19, 2004 Wednesday, October 20, 2004 Thursday, October 21, 2004 Friday, October 22, 2004 Saturday, October 23, 2004 Sunday, October 24, 2004 Monday, October 25, 2004 Tuesday, October 26, 2004 Wednesday, October 27, 2004 Thursday, October 28, 2004 Friday, October 29, 2004 Saturday, October 30, 2004 Sunday, October 31, 2004 Monday, November 01, 2004 Tuesday, November 02, 2004 Wednesday, November 03, 2004 Thursday, November 04, 2004 Friday, November 05, 2004 Saturday, November 06, 2004 Sunday, November 07, 2004 Monday, November 08, 2004 Tuesday, November 09, 2004 Wednesday, November 10, 2004 Thursday, November 11, 2004 Friday, November 12, 2004 Saturday, November 13, 2004 Sunday, November 14, 2004 Monday, November 15, 2004 Tuesday, November 16, 2004 Wednesday, November 17, 2004 Thursday, November 18, 2004 Friday, November 19, 2004 Saturday, November 20, 2004 Sunday, November 21, 2004 Monday, November 22, 2004 Thursday, November 25, 2004 Friday, November 26, 2004 Saturday, November 27, 2004 Sunday, November 28, 2004 Tuesday, November 30, 2004 Wednesday, December 01, 2004 Thursday, December 02, 2004 Friday, December 03, 2004 Saturday, December 04, 2004 Tuesday, December 07, 2004 Wednesday, December 08, 2004 Thursday, December 09, 2004 Friday, December 10, 2004 Saturday, December 11, 2004 Sunday, December 12, 2004 Monday, December 13, 2004 Tuesday, December 14, 2004 Wednesday, December 15, 2004 Thursday, December 16, 2004 Friday, December 17, 2004 Sunday, December 19, 2004 Monday, December 20, 2004 Friday, December 24, 2004 Saturday, December 25, 2004 Sunday, December 26, 2004 Wednesday, December 29, 2004 Thursday, December 30, 2004 Friday, December 31, 2004 Monday, January 03, 2005 Wednesday, January 05, 2005 Thursday, January 06, 2005 Saturday, January 08, 2005 Sunday, January 09, 2005 Tuesday, January 11, 2005 Wednesday, January 12, 2005 Thursday, January 13, 2005 Saturday, January 15, 2005 Wednesday, January 19, 2005 Friday, January 21, 2005 Saturday, January 22, 2005 Sunday, January 23, 2005 Monday, January 24, 2005 Wednesday, January 26, 2005 Thursday, January 27, 2005 Friday, January 28, 2005 Saturday, January 29, 2005 Monday, January 31, 2005 Thursday, February 03, 2005 Friday, February 04, 2005 Saturday, February 05, 2005 Sunday, February 06, 2005 Monday, February 07, 2005 Tuesday, February 08, 2005 Wednesday, February 09, 2005 Thursday, February 10, 2005 Friday, February 11, 2005 Saturday, February 12, 2005 Sunday, February 13, 2005 Tuesday, February 15, 2005 Thursday, February 17, 2005 Saturday, February 19, 2005 Sunday, February 20, 2005 Wednesday, February 23, 2005 Saturday, February 26, 2005 Sunday, February 27, 2005 Monday, February 28, 2005 Wednesday, March 02, 2005 Thursday, March 03, 2005 Sunday, March 06, 2005 Tuesday, March 08, 2005 Wednesday, March 09, 2005 Thursday, March 10, 2005 Friday, March 11, 2005 Saturday, March 12, 2005 Sunday, March 13, 2005 Monday, March 14, 2005 Tuesday, March 15, 2005 Wednesday, March 16, 2005 Thursday, March 17, 2005 Friday, March 18, 2005 Saturday, March 19, 2005 Thursday, March 24, 2005 Friday, March 25, 2005 Saturday, March 26, 2005 Sunday, March 27, 2005 Wednesday, March 30, 2005 Thursday, March 31, 2005 Friday, April 01, 2005 Saturday, April 02, 2005 Sunday, April 03, 2005 Wednesday, April 06, 2005 Thursday, April 07, 2005 Saturday, April 09, 2005 Sunday, April 10, 2005 Monday, April 11, 2005 Thursday, April 14, 2005 Saturday, April 16, 2005 Sunday, April 17, 2005 Monday, April 18, 2005 Wednesday, April 20, 2005 Thursday, April 21, 2005 Friday, April 22, 2005 Saturday, April 23, 2005 Sunday, April 24, 2005 Tuesday, April 26, 2005 Friday, April 29, 2005 Saturday, April 30, 2005 Sunday, May 01, 2005 Monday, May 02, 2005 Tuesday, May 03, 2005 Wednesday, May 04, 2005 Thursday, May 05, 2005 Friday, May 06, 2005 Sunday, May 08, 2005 Wednesday, May 11, 2005 Thursday, May 12, 2005 Friday, May 13, 2005 Sunday, May 15, 2005 Monday, May 16, 2005 Wednesday, May 18, 2005 Thursday, May 19, 2005 Friday, May 20, 2005 Saturday, May 21, 2005 Sunday, May 22, 2005 Monday, May 23, 2005 Tuesday, May 24, 2005 Wednesday, May 25, 2005 Thursday, May 26, 2005 Friday, May 27, 2005 Saturday, May 28, 2005 Sunday, May 29, 2005 Monday, May 30, 2005 Tuesday, May 31, 2005 Wednesday, June 01, 2005 Thursday, June 02, 2005 Friday, June 03, 2005 Saturday, June 04, 2005 Sunday, June 05, 2005 Monday, June 06, 2005 Tuesday, June 07, 2005 Wednesday, June 08, 2005 Thursday, June 09, 2005 Friday, June 10, 2005 Sunday, June 12, 2005 Tuesday, June 14, 2005 Thursday, June 16, 2005 Friday, June 17, 2005 Saturday, June 18, 2005 Sunday, June 19, 2005 Monday, June 20, 2005 Tuesday, June 21, 2005 Thursday, June 23, 2005 Saturday, June 25, 2005 Sunday, June 26, 2005 Tuesday, June 28, 2005 Wednesday, June 29, 2005 Thursday, June 30, 2005 Friday, July 01, 2005 Saturday, July 02, 2005 Monday, July 04, 2005 Wednesday, July 06, 2005 Thursday, July 07, 2005 Saturday, July 09, 2005 Sunday, July 10, 2005 Friday, July 15, 2005 Sunday, July 17, 2005 Tuesday, July 19, 2005 Wednesday, July 20, 2005 Thursday, July 21, 2005 Saturday, July 23, 2005 Sunday, July 24, 2005 Tuesday, August 02, 2005 Thursday, August 04, 2005 Friday, August 05, 2005 Saturday, August 13, 2005 Wednesday, August 24, 2005 Friday, August 26, 2005 Saturday, August 27, 2005 Saturday, September 03, 2005 Wednesday, September 07, 2005 Thursday, September 08, 2005 Saturday, September 24, 2005 Wednesday, September 28, 2005 Wednesday, October 19, 2005 Thursday, October 20, 2005 Friday, October 21, 2005 Sunday, October 23, 2005 Wednesday, November 02, 2005 Monday, November 21, 2005 Wednesday, November 23, 2005 Friday, December 02, 2005 Saturday, December 10, 2005 Saturday, December 17, 2005 Sunday, December 18, 2005 Monday, December 19, 2005 Wednesday, December 21, 2005 Wednesday, January 04, 2006 Friday, January 06, 2006 Monday, January 09, 2006 Monday, January 16, 2006 Tuesday, January 17, 2006 Friday, January 20, 2006 Sunday, January 22, 2006 Saturday, January 28, 2006 Tuesday, January 31, 2006 Wednesday, February 01, 2006 Thursday, February 02, 2006 Wednesday, February 08, 2006 Thursday, February 09, 2006 Friday, February 10, 2006 Saturday, February 11, 2006 Sunday, February 12, 2006 Monday, February 13, 2006 Tuesday, February 14, 2006 Wednesday, February 15, 2006 Thursday, February 16, 2006 Saturday, February 18, 2006 Monday, February 20, 2006 Wednesday, February 22, 2006 Thursday, February 23, 2006 Sunday, March 05, 2006 Tuesday, March 07, 2006 Friday, March 24, 2006 Saturday, March 25, 2006 Wednesday, April 05, 2006 Thursday, April 06, 2006 Friday, April 07, 2006 Saturday, April 08, 2006 Tuesday, April 11, 2006 Monday, April 17, 2006 Tuesday, April 25, 2006 Thursday, April 27, 2006 Tuesday, May 09, 2006 Friday, May 12, 2006 Saturday, May 13, 2006 Sunday, May 14, 2006 Monday, May 15, 2006 Tuesday, May 16, 2006 Thursday, May 18, 2006 Friday, May 26, 2006 Sunday, May 28, 2006 Monday, May 29, 2006 Wednesday, May 31, 2006 Thursday, June 01, 2006 Sunday, June 04, 2006 Monday, June 05, 2006 Friday, June 09, 2006 Saturday, June 10, 2006 Sunday, June 11, 2006 Friday, June 16, 2006 Monday, June 19, 2006 Friday, June 23, 2006 Sunday, June 25, 2006 Tuesday, June 27, 2006 Wednesday, June 28, 2006 Friday, June 30, 2006 Sunday, July 09, 2006 Thursday, July 13, 2006 Friday, July 14, 2006 Saturday, July 15, 2006 Monday, July 17, 2006 Tuesday, July 18, 2006 Wednesday, July 19, 2006 Tuesday, July 25, 2006 Wednesday, July 26, 2006 Friday, July 28, 2006 Sunday, July 30, 2006 Monday, July 31, 2006 Thursday, August 03, 2006 Friday, August 04, 2006 Sunday, August 06, 2006 Monday, August 07, 2006 Wednesday, August 09, 2006 Thursday, August 10, 2006 Sunday, August 13, 2006 Tuesday, August 15, 2006 Thursday, August 17, 2006 Friday, August 18, 2006 Wednesday, September 06, 2006 Friday, September 08, 2006 Monday, September 11, 2006 Wednesday, September 13, 2006 Thursday, September 14, 2006 Friday, September 22, 2006 Saturday, September 23, 2006 Sunday, October 01, 2006 Tuesday, October 03, 2006 Monday, October 30, 2006 Monday, November 06, 2006 Tuesday, November 07, 2006 Sunday, November 12, 2006 Tuesday, November 21, 2006 Wednesday, November 22, 2006 Thursday, November 23, 2006 Friday, December 01, 2006 Monday, December 04, 2006 Tuesday, December 05, 2006 Thursday, December 14, 2006 Wednesday, December 20, 2006 Thursday, December 21, 2006 Friday, December 29, 2006 Wednesday, January 10, 2007 Thursday, January 11, 2007 Saturday, January 13, 2007 Monday, January 15, 2007 Wednesday, January 17, 2007 Saturday, January 20, 2007 Tuesday, January 23, 2007 Tuesday, February 20, 2007 Saturday, February 24, 2007 Sunday, February 25, 2007 Friday, March 23, 2007 Wednesday, April 04, 2007 Tuesday, April 10, 2007 Thursday, April 12, 2007 Friday, April 13, 2007 Thursday, April 19, 2007 Friday, April 20, 2007 Tuesday, April 24, 2007 Tuesday, May 08, 2007 Thursday, May 10, 2007 Friday, May 11, 2007 Monday, May 14, 2007 Tuesday, May 15, 2007 Sunday, May 20, 2007 Monday, May 21, 2007 Tuesday, May 22, 2007 Wednesday, May 23, 2007 Thursday, May 24, 2007 Sunday, May 27, 2007 Wednesday, May 30, 2007 Thursday, May 31, 2007 Friday, June 01, 2007 Monday, June 04, 2007 Wednesday, June 06, 2007 Saturday, June 09, 2007 Sunday, June 10, 2007 Monday, June 11, 2007 Friday, June 15, 2007 Tuesday, June 19, 2007 Tuesday, June 26, 2007 Wednesday, June 27, 2007 Thursday, June 28, 2007 Saturday, June 30, 2007 Monday, July 02, 2007 Tuesday, July 03, 2007 Friday, July 06, 2007 Tuesday, July 10, 2007 Friday, July 13, 2007 Tuesday, July 24, 2007 Saturday, July 28, 2007 Sunday, July 29, 2007 Monday, August 13, 2007 Sunday, August 19, 2007 Saturday, August 25, 2007 Monday, August 27, 2007 Wednesday, August 29, 2007 Friday, August 31, 2007 Friday, September 07, 2007 Wednesday, September 12, 2007 Wednesday, September 19, 2007 Friday, September 21, 2007 Friday, September 28, 2007 Tuesday, October 02, 2007 Thursday, October 11, 2007 Saturday, October 27, 2007 Thursday, November 01, 2007 Saturday, November 03, 2007 Monday, November 05, 2007 Wednesday, November 28, 2007 Tuesday, December 04, 2007 Tuesday, December 11, 2007 Friday, December 14, 2007 Friday, December 21, 2007 Tuesday, December 25, 2007 Saturday, December 29, 2007 Monday, January 07, 2008 Thursday, January 10, 2008 Saturday, January 12, 2008 Sunday, January 13, 2008 Tuesday, January 15, 2008 Friday, January 18, 2008 Saturday, January 19, 2008 Friday, January 25, 2008 Sunday, January 27, 2008 Monday, January 28, 2008 Tuesday, January 29, 2008 Sunday, February 03, 2008 Wednesday, February 06, 2008 Friday, February 08, 2008 Sunday, February 10, 2008 Monday, February 11, 2008 Tuesday, February 12, 2008 Monday, February 25, 2008 Tuesday, February 26, 2008 Monday, March 03, 2008 Tuesday, March 04, 2008 Saturday, March 22, 2008 Saturday, April 19, 2008 Wednesday, April 23, 2008 Saturday, April 26, 2008 Wednesday, April 30, 2008 Monday, May 05, 2008 Tuesday, May 13, 2008 Wednesday, May 14, 2008 Saturday, May 17, 2008 Tuesday, May 20, 2008 Saturday, May 24, 2008 Sunday, May 25, 2008 Thursday, June 12, 2008 Tuesday, June 17, 2008 Saturday, July 05, 2008 Tuesday, July 08, 2008 Monday, August 04, 2008 Thursday, August 28, 2008 Thursday, September 11, 2008 Saturday, September 20, 2008 Monday, September 22, 2008 Tuesday, September 23, 2008 Wednesday, September 24, 2008 Friday, September 26, 2008 Monday, September 29, 2008 Saturday, October 04, 2008 Wednesday, October 08, 2008 Thursday, October 09, 2008 Sunday, October 12, 2008 Wednesday, October 15, 2008 Wednesday, October 22, 2008 Thursday, October 23, 2008 Friday, October 24, 2008 Tuesday, October 28, 2008 Wednesday, October 29, 2008 Monday, November 03, 2008 Tuesday, November 04, 2008 Thursday, November 06, 2008 Saturday, November 08, 2008 Monday, November 10, 2008 Wednesday, November 19, 2008 Thursday, December 18, 2008 Monday, December 22, 2008 Sunday, January 11, 2009 Thursday, January 22, 2009 Monday, January 26, 2009 Thursday, February 19, 2009 Tuesday, February 24, 2009 Friday, February 27, 2009 Monday, March 02, 2009 Thursday, March 05, 2009 Wednesday, March 11, 2009 Thursday, March 12, 2009 Friday, March 13, 2009 Thursday, March 19, 2009 Monday, March 23, 2009 Friday, March 27, 2009 Saturday, March 28, 2009 Sunday, March 29, 2009 Thursday, April 02, 2009 Tuesday, April 07, 2009 Tuesday, April 14, 2009 Tuesday, April 21, 2009 Thursday, April 23, 2009 Saturday, April 25, 2009 Sunday, May 03, 2009 Wednesday, May 06, 2009 Tuesday, May 12, 2009 Wednesday, May 13, 2009 Thursday, May 14, 2009 Sunday, May 17, 2009 Tuesday, May 26, 2009 Wednesday, June 03, 2009 Thursday, June 04, 2009 Tuesday, June 09, 2009 Friday, June 12, 2009 Saturday, June 13, 2009 Sunday, June 14, 2009 Monday, June 22, 2009 Thursday, June 25, 2009 Saturday, July 11, 2009 Tuesday, July 14, 2009 Friday, July 24, 2009 Tuesday, August 18, 2009 Wednesday, August 19, 2009 Friday, August 21, 2009 Monday, August 24, 2009 Thursday, September 03, 2009 Wednesday, September 09, 2009 Thursday, September 10, 2009 Sunday, September 13, 2009 Monday, September 14, 2009 Tuesday, September 15, 2009 Wednesday, September 23, 2009 Friday, September 25, 2009 Sunday, September 27, 2009 Tuesday, September 29, 2009 Monday, November 02, 2009 Tuesday, November 10, 2009 Thursday, November 12, 2009 Tuesday, November 24, 2009 Thursday, February 25, 2010 Thursday, March 04, 2010 Wednesday, March 17, 2010 Tuesday, March 23, 2010 Friday, April 09, 2010 Friday, April 16, 2010 Wednesday, April 21, 2010 Thursday, April 22, 2010 Friday, April 23, 2010 Thursday, April 29, 2010 Sunday, May 02, 2010 Friday, May 07, 2010 Sunday, May 09, 2010 Monday, May 10, 2010 Tuesday, May 11, 2010 Tuesday, June 15, 2010