Copyright Notice
- All original comments are © Copyright 2004 by CodeWarrior. All rights are reserved. All quoted material unless in public domain, are the copyrighted works of the respective copyright holders, and all referenced trademarks are respectively owned by the relevant trademark holder. No attempt nor intention is made by this author to dilute any trademark or infringe any copyrighted material. All materials used on this page not copyrighted by CodeWarrior, are held to be used for non-commercial , personal, fair use purposes. All declaratoy statements not manifestly,contextually or perceptually, intended to be sarcastic, ironic, or parody in nature, are asserted to be true and correct by the author of this blog, as far as could be determined given the information available to the author at the time the post was written. Unauthorized reproduction of material on this page is prohibited, unless such limited reproduction falls under fair use, and such use is authorized if proper attribution of the source of the material, and author is credited in all instances of its usage.
SEARCH THIS SITE USING KEYWORDS
Powered by:

CodeWarriorZ BlueZ
CodeWarriorz Thoughts
Day to day musings of free speech activist CodeWarrior.
CHECK OUT THE WEBSITE OF MY PAL SHMOO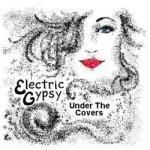 Friday, November 19, 2004
Ex-Austin student indicted for data theft | CNET News.com
A federal grand jury on Wednesday indicted a former University of Texas at Austin student for breaking into the school's computers and stealing 37,000 names and social security numbers. The university estimated the data theft cost the school $167,000 to recover the system affected by the breach and warned people about potential identity theft.
The indictment charges Christopher Andrew Phillips, 21, with accessing protected computers and attempting to defraud people using the computers. According to the charges, Phillips had been detected in three previous attempts to breach computers and had been warned by the university to halt the intrusions.
AP Wire | 11/19/2004 | Israel to Probe Desecration of Bodies
Israel to Probe Desecration of Bodies
LAURIE COPANS
Associated Press
JERUSALEM - The chief of staff of Israel's army on Friday promised a full investigation into reports that troops desecrated Palestinian bodies and then snapped their photographs with the corpses as war mementos.
Lt. Gen. Moshe Yaalon denied that the incidents detailed in a Yediot Ahronot newspaper report were widespread in the Israeli military and said such "horrible acts" were forbidden in the army.
"I intend to reach the truth," Yaalon told Army Radio. "God forbid if we are compared and likened to those against whom we are fighting."
While reports of soldiers abusing Palestinians have arisen previously during the four years of fighting, the new reports - and photographs - were the first to reveal soldiers mistreating the bodies of Palestinians and came as a shock to Israelis outraged over similar acts by Palestinian militants.
In one of the most gruesome acts detailed in the report, soldiers from an ultra-Orthodox unit reassembled the body parts of a Palestinian suicide bomber, sticking a cigarette in his mouth, according to the report. The account of the incident that took place in the West Bank two years ago included a photograph of the head of the corpse.
"Everyone was really excited," a soldier identified as "Y," told the mass circulation daily. I tried to tell them, `Are you crazy? You are disgusting.' They didn't understand what I was talking about."
The desecration of bodies, even of the enemy, is not allowed under Jewish law, since man is created in the image of God, prominent rabbis say.
The newspaper details soldiers' accounts of several other incidents, including one in the Gaza Strip last year, when soldiers shot and killed a Palestinian who was walking in a forbidden area.
Although soldiers later realized the man was not carrying a weapon, they tied the body to the hood of a jeep and drove him to a base, where soldiers repeatedly took his picture, the report said.
Military.com
EDITOR'S TOP PICKS
Veteran Story: Chaos of 1996
DT: Net Hunting Takes Aim
Hyper-X Reaches Mach 9.8
Cartoon: Making an Impression
Career: Your Turn to Ask Questions
RELATED LINKS
2004 Thanksgiving Message From...
Iraqi Forces Fought Well in...
Article Guide
Iraq War Topping $5.8 Billion A Month
United Press International
November 18, 2004
WASHINGTON - The Pentagon is spending more than $5.8 billion a month on the war in Iraq, according to the military's top generals.
That is nearly a 50 percent increase above the $4 billion-a-month benchmark the Pentagon has used to estimate the cost of the war so far.
The Army alone is spending $4.7 million a month while the Air Force is spending $800 million a month transporting soldiers and flying combat missions. The Marine Corps is spending $300 million a month, the four service chiefs told the House Armed Services Committee Wednesday.
Since 2003, the Pentagon has received some $160 billion for the wars in Iraq and Afghanistan in supplemental funding -- that is, in addition to its annual budget. It will be requesting another multibillion-dollar supplement early next year to cover the continuing cost of the war.
Telegraph | News | 'Arrest without evidence' planned by Government
'Arrest without evidence' planned by Government
(Filed: 17/11/2004)
The Government is planning a change in the law to allow police to arrest suspects without evidence, it was claimed today.
Britain will get its own FBI
The Law Society said it believed the new powers would be included in the Bill which will create the new British FBI.
It warned that the cumulative effect of the Government's clampdown on crime and terrorism would be a step towards a police state.
Janet Paraskeva, the Law Society's chief executive, said: "The Government is in serious danger of overstating the threat to public order and national security and bringing in draconian new laws, which will take away centuries of hard won rights.
"If the Bill to establish the Serious Organised Crime Agency (Soca) includes the power to arrest someone without evidence, then solicitors could not support it.
"That would be a serious step in the direction of a police state.
"Anyone could be lifted from the streets or from their homes just on the basis of suspicion."
She added: "The threat to end jury trials for terrorism cases is another chipping away of the centuries old rights for people to be tried before a jury of their peers, which goes back to Magna Carta."
===============snip=================
Maybe Bush's Pet....Tony Blair, has been hanging around
King George the Cowardly too long.....YIKES!!!!!!!!
Is Fabulous President George W. Bush a Fabulous Homosexual? Baptists Are Saving Homosexuals asks what conservative Christians demand to know
IS BUSH GAY??????????
Karyn is with us. A West Texas girl, just like me"
-- President Bush, May 27, 2004
January 2004. Mr. Bush wandered over during Mr. [Scot] Reid's [senior strategist to Canadian Prime Minister Paul Martin] chat with the Prime Minister. Mr. Reid introduced himself and shook hands with Mr. Bush.
The President chuckled. "Well, you got a pretty face," he told the surprised Mr. Reid. He wasn't done. "You got a pretty face," he said again. "You're a good-looking guy. Better looking than my Scott anyway."
-- President Bush in a coquettish bout of eye-batting homosexual diplomatic flirting January 16, 2004 The Globe and Mail
We at Baptists Are Saving Homosexuals have BASHed enough so-called "gays" with the blunt love of Jesus to know how to spot deviants across a crowded sale at Saks. Outside of Italian shoes, nothing sends up a rainbow-colored flare that you are dealing with a flaming homosexual more reliably than when a man breathlessly gushes the word "faaabulous!" When a Christian lady hears this word outside of her hair salon or florist, she instinctively reaches for the Bible tracts in her purse because she knows a nancy boy is within throwing range.
"It's been a fabulous year for Laura and me."
-- George W. Bush., three months after the World Trade Center towers went down.
Therefore, conservative Christians throughout the land have become increasingly uncomfortable as they dutifully mask each awkward pause with a flurry of polite applause and yells of "more wars!" during President Bush's somewhat laborious attempts at speaking. While Tony Blair may have mastered the Queen's English, our President's vocabulary calls to mind any number of queens' English. Even our least vigilant Republican social commandos have noticed that Mr. Bush has been peppering his otherwise delightful litany of patriotic jingoism and pleasantly embroidered CIA-intelligence recaps with the effeminate mating call "fabulous" -- three giddy syllables that are tantamount to coyly cooing, "Hello, sailor!"
"And we'll prevail, because we're a faaabulous nation, and we're a faaabulous nation because we're a nation full of faaabulous people."
-- George W. Bush., Atlanta, GA, January 31, 2002
LEST WE FORGET...REMEMBER THIS MOMENT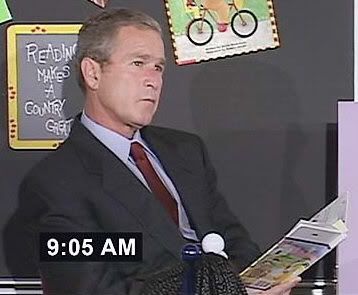 There he sat, chewing the inside of his mouth, for seven minutes, holding a copy of
MY PET GOAT
, while 3000 Americans died in New York....
There he sat for seven minutes...according to him..."collecting his thoughts"....
And while millions fall into poverty, lose their jobs, and are many are dying in a war he started in Iraq, he sits in the White House, The RESIDENT, NOT the president, collecting his interest on all that money....all that blood stained money....
Julian Borger in Washington
Thursday November 18, 2004
The Guardian

The new US director of central intelligence, Porter Goss, told CIA staff this week their job was "to support the Bush administration and its policies in our work", stirring a new controversy over the future of the agency.
The memorandum, circulated on Monday, was attacked by critics as an attempt to suppress dissent, particularly over Iraq, and ensure the agency only produces assessments the White House wants to hear.



Journalist silent on death tape
Journalist silent on death tape
Issue 'sensitive,' photographer says
New York Times
Nov. 18, 2004 12:00 AM
NEAR FALLUJAH, Iraq - The photographer whose videotape of what appears to be a Marine shooting a wounded Iraqi is generating a storm of outrage in the Arab world maintained his steadfast silence on Wednesday, saying he wanted to continue reporting on the incident before commenting.
"As sensitive as this is, we want to make sure the world has an accurate picture of the events," the photographer, Kevin Sites, an American freelance cameraman working for NBC News, said to a reporter at the military base near Fallujah where he is staying.
The videotape shows a group of Marines entering a mosque Saturday in Fallujah, where several wounded Iraqi prisoners lie on the floor. One Marine is shown shooting and apparently killing one of the Iraqis. The Marines are members of the 3rd Battalion, 1st Regiment, with whom Sites was embedded. advertisement
An unedited version of the videotape, which was distributed to other news agencies as part of a pool report, was being aired several times an hour on Arab satellite television stations on Wednesday, and U.S. commanders have said it has already yielded a huge propaganda victory for the anti-American insurgency. Some Arab commentators have even compared it to the scandal surrounding mistreatment of detainees earlier this year at Abu Ghraib prison.
Yet many questions about the shooting remain unanswered, human rights advocates and senior military officials agree. In the videotape, the soldier can be heard yelling that the Iraqi prisoner is only pretending to be dead before firing at the prone body, suggesting that he may have believed he was acting in self-defense. It is unclear from watching it whether the prisoner was moving before the shot.
Sites would appear to be in a unique position to shed some light on what happened, but he declined repeatedly Wednesday to comment.
He did say he had received hate mail and threats since the footage aired, in edited form, on the initial NBC report. A comment section on a Web site he maintains has been shut down because of death threats.
I just posted a couple of articles about the embedded reporter, Kevin Sites,
receiving death threats from mental retards, JUST BECAUSE HE SHOWED WHAT TRULY HAPPENED.

It is clear which political party these mental defectives belong to from the comments.

Something is currently seriously wrong with our current state when such things happen. Sites was at risk as much, or even more than the soldiers he accompanied, since he was holding a camera and not an M-16.

There seems to be a spirit in this country that they want the truth surpressed, and want to tape the mouths of anyone and everyone who would point out what is really happening.

What the hell is wrong with these people?

AlterNet: MediaCulture: Death threats as acceptable discourse
"Death threats as acceptable discourse
ALSO IN MEDIACULTURE
Wave of Adoration
Scott Thill
Return of the Embeds
Greg Mitchell
My Fantasy Island
Jessica Lyons
Wimblehack: The Winner
Matt Taibbi
Tribal Warfare in America
Rick Perlstein
Posted by Evan on November 18, 2004 @ 11:04AM
An NBC correspondent who caught what looks an awful lot like an American war crime on camera is now receiving death threats from an anonymous source (not to be confused with those slippery beings whispering information into the ears of DC journalists). The tape, like the images from Abu Ghraib, is making the rounds on Arab news and websites ostensibly raising the already high temperature of resentment in the Arab world.
Death threats are no surprise of course. There are those who believe that regardless of the brutality of the crime, we shouldn't present the enemy with such potent propaganda -- even if that propaganda is factual.
What ought to give pause to many is the "chat" taking place at right wing websites like freerepublic.com. This particular site is heavily monitored and purged of interlopers whose views don't match the site's agenda. Media Matters reported yesterday on some of their members' reactions to the footage and what ought to happen to the correspondent, Kevin Sites. None of these posts have been removed.
They include:
"Turn Sites over to the terrorist."
"No need for anything overt. Unfortunate things happen in combat zones, and if the reporter fails to hear someone yell 'Sniper!!', well, c'est la guerre" [French for "that is war"].
[In response to a post suggesting Sites's "life is in danger being around the Marines"]: "I would certainly hope so."
"I hope the Marines advance and leave Sites behind...alone in Fallujah with his terrorist buddies."
"I don't want the punk killed, I'd just like to see his hair mussed. Jaws wired shut for a few months, food through a straw, that kind of thing."
"It's Kevin Sites who deserves to be held in contempt and who deserves the losing end of a bar fight."
"I don't give a flying you-know-what about his safety."
Augusta Free Press : It needs to be said
""Turn Sites over to the terrorists," one poster wrote.
"Unfortunate things happen in combat zones, and if the reporter fails to hear someone yell 'Sniper!', well, c'est la guerre," said a second.
"I hope the Marines advance and leave Sites behind ... alone in Fallujah with his terrorist buddies," penned a third.
This was the sentiment at www.freerepublic.com on freelance war correspondent Kevin Sites, whose videotape of the shooting of an unarmed Iraqi by a Marine in Fallujah has stirred controversy the world over.
Sites, who hasn't commented publicly since the videotape of the shooting was made public earlier this week, has been made the subject of death threats by those who seem not to understand that all he was doing was his job.
As a war correspondent, Sites was out on the front lines of the fighting in Fallujah, literally, chronicling what he saw as his life and the lives of Marines with which he was embedded passed before all their eyes.
Part and parcel to that responsibility is sharing stories of the good and the bad as either and both bring themselves to the forefront.
The posters at Free Republic and other blogs would rather that the news media not disrupt their way of thinking by pointing out the bad news that comes as a matter of course in a war zone.
It's easy for them to criticize, of course, from the relative safety of the computers sitting in their various dens across this free and democratic land of ours."
President Bush's Kissing Cabinet (washingtonpost.com)
President Bush's Kissing Cabinet
By Robin Givhan
Washington Post Staff Writer
Friday, November 19, 2004; Page C01
The nominations of Condoleezza Rice for secretary of state and of Margaret Spellings as secretary of education were visually intriguing events, most notably because President Bush puckered up and gave both of them a congratulatory kiss. The president did not kiss Alberto Gonzales, his nominee for attorney general. He was congratulated with a strong handshake and the sort of torso tackle that men give each other in lieu of an actual hug.
The presidential smooches have been much discussed, which is not surprising. While it is common for politicians to hug and kiss indiscriminately on the campaign trail, it is another thing altogether to see the president planting his lips on potential -- or current -- members of his Cabinet.
President Bush has given female nominees such as Condoleezza Rice, above, and Margaret Spellings congratulatory kisses, but has given male nominees such as Alberto Gonzales a handshake and a pat on the back. (Pablo Martinez Monsivais -- AP)
Thursday's Question:
William Safire, a speechwriter for former president Richard Nixon, announced this week that he will be ending his column on the Op-Ed page of the New York Times after three decades. Which of the following people did NOT serve as a Nixon speechwriter?
Peggy Noonan
John McLaughlin
Pat Buchanan
Ben Stein
_____From Robin Givhan_____
• A Vintage Approach To High-End Sales (The Washington Post, Nov 12, 2004)
• At the End of the Race, Dressed to Impress (The Washington Post, Nov 5, 2004)
• Classic Furs, Styled for Youth (The Washington Post, Oct 29, 2004)
• Spring Collections, Floating on Air (The Washington Post, Oct 22, 2004)
• Paris, When It Fizzles (The Washington Post, Oct 12, 2004)
_____Arts & Living_____
• The Fashion & Beauty section has stories and tips.
Add Fashion to your personal home page.
_____Free E-mail Newsletters_____
• Daily Politics News & Analysis
See a Sample | Sign Up Now
• Campaign Report
See a Sample | Sign Up Now
• Federal Insider
See a Sample | Sign Up Now
• Breaking News Alerts
See a Sample | Sign Up Now
As much as could be determined from the photo record, the president has never publicly kissed Secretary of Defense Donald Rumsfeld or Health and Human Services Secretary Tommy Thompson. President Bush seems to reserve his pecks on the cheek for the ladies. Perhaps he will be kissing outgoing Agriculture Secretary Ann Veneman goodbye?
The president kissed only Rice's right cheek, and in the case of Spellings, planted a single kiss just off-center of the lips. He did not execute the double buss that is used as a greeting throughout much of Europe, organized crime and the fashion industry. The double buss is not based on gender or age. In some ways it is a perfect greeting: intimate but not sexual, androgynous but warm. A man can use it to greet a male buddy, for instance. Women say hello to their girlfriends by bussing each cheek. Teenagers use the greeting among friends. As one might expect, there was nothing international about Bush's kisses.
His kisses were more substantial than the single air smooch favored by Hollywood and the Upper East Side of Manhattan. In the execution of this kiss, no direct contact is made between lips and cheek. Instead, two cheeks touch gently and if the lips pucker at all, it is for naught.
Bush delivered his kisses at announcements where gender distinctions were obvious but only vaguely suggested. He noted that the world will see this country's "grace" in Rice. It is a word that can mean decency and kindness, but it comes intertwined with connotations of physical beauty, elegance and femininity.
The president did not point out, however, that if Rice's nomination is confirmed by the Senate, she will be the first African American woman to be secretary of state. He did note that Spellings is a mother and that Rice is a classical pianist. One can assume that these details were relevant because they indicate that Spellings knows something about the moods and habits of children and that Rice has side interests that are somewhat more global than the president's affection for Brooks & Dunn and the clearing of brush from his ranch.
==========snip======================
Bush is "Workin' Hard" to give 'em some sugar....
How about Kissing old Colin Powell goodbye and good luck...
on the MOUTH like you did Margaret Spellings...!!!!!!!!!!
Archives
Monday, May 03, 2004 Tuesday, May 04, 2004 Sunday, May 09, 2004 Tuesday, May 11, 2004 Wednesday, May 12, 2004 Friday, May 14, 2004 Saturday, May 15, 2004 Sunday, May 16, 2004 Monday, May 17, 2004 Tuesday, May 18, 2004 Wednesday, May 19, 2004 Thursday, May 20, 2004 Friday, May 21, 2004 Monday, May 24, 2004 Tuesday, May 25, 2004 Wednesday, May 26, 2004 Thursday, May 27, 2004 Friday, May 28, 2004 Saturday, May 29, 2004 Sunday, May 30, 2004 Tuesday, June 01, 2004 Wednesday, June 02, 2004 Thursday, June 03, 2004 Friday, June 04, 2004 Saturday, June 05, 2004 Sunday, June 06, 2004 Monday, June 07, 2004 Tuesday, June 08, 2004 Wednesday, June 09, 2004 Thursday, June 10, 2004 Friday, June 11, 2004 Sunday, June 13, 2004 Monday, June 14, 2004 Wednesday, June 16, 2004 Thursday, June 17, 2004 Friday, June 18, 2004 Sunday, June 20, 2004 Monday, June 21, 2004 Tuesday, June 22, 2004 Wednesday, June 23, 2004 Thursday, June 24, 2004 Friday, June 25, 2004 Saturday, June 26, 2004 Sunday, June 27, 2004 Tuesday, June 29, 2004 Wednesday, June 30, 2004 Thursday, July 01, 2004 Friday, July 02, 2004 Saturday, July 03, 2004 Sunday, July 04, 2004 Monday, July 05, 2004 Tuesday, July 06, 2004 Wednesday, July 07, 2004 Thursday, July 08, 2004 Friday, July 09, 2004 Saturday, July 10, 2004 Sunday, July 11, 2004 Monday, July 12, 2004 Tuesday, July 13, 2004 Wednesday, July 14, 2004 Thursday, July 15, 2004 Friday, July 16, 2004 Saturday, July 17, 2004 Sunday, July 18, 2004 Monday, July 19, 2004 Tuesday, July 20, 2004 Wednesday, July 21, 2004 Friday, July 23, 2004 Friday, July 30, 2004 Monday, August 02, 2004 Tuesday, August 03, 2004 Wednesday, August 04, 2004 Thursday, August 05, 2004 Friday, August 06, 2004 Saturday, August 07, 2004 Sunday, August 08, 2004 Tuesday, August 10, 2004 Wednesday, August 11, 2004 Thursday, August 12, 2004 Friday, August 13, 2004 Saturday, August 14, 2004 Sunday, August 15, 2004 Monday, August 16, 2004 Tuesday, August 17, 2004 Friday, August 20, 2004 Saturday, August 21, 2004 Tuesday, August 24, 2004 Wednesday, August 25, 2004 Thursday, August 26, 2004 Friday, August 27, 2004 Sunday, August 29, 2004 Monday, August 30, 2004 Wednesday, September 01, 2004 Thursday, September 02, 2004 Friday, September 03, 2004 Saturday, September 04, 2004 Sunday, September 05, 2004 Monday, September 06, 2004 Tuesday, September 07, 2004 Wednesday, September 08, 2004 Thursday, September 09, 2004 Friday, September 10, 2004 Saturday, September 11, 2004 Sunday, September 12, 2004 Monday, September 13, 2004 Tuesday, September 14, 2004 Wednesday, September 15, 2004 Friday, September 17, 2004 Saturday, September 18, 2004 Sunday, September 19, 2004 Tuesday, September 21, 2004 Wednesday, September 22, 2004 Thursday, September 23, 2004 Friday, September 24, 2004 Saturday, September 25, 2004 Monday, September 27, 2004 Tuesday, September 28, 2004 Wednesday, September 29, 2004 Thursday, September 30, 2004 Friday, October 01, 2004 Saturday, October 02, 2004 Sunday, October 03, 2004 Monday, October 04, 2004 Tuesday, October 05, 2004 Wednesday, October 06, 2004 Thursday, October 07, 2004 Friday, October 08, 2004 Saturday, October 09, 2004 Sunday, October 10, 2004 Tuesday, October 12, 2004 Wednesday, October 13, 2004 Thursday, October 14, 2004 Friday, October 15, 2004 Saturday, October 16, 2004 Sunday, October 17, 2004 Monday, October 18, 2004 Tuesday, October 19, 2004 Wednesday, October 20, 2004 Thursday, October 21, 2004 Friday, October 22, 2004 Saturday, October 23, 2004 Sunday, October 24, 2004 Monday, October 25, 2004 Tuesday, October 26, 2004 Wednesday, October 27, 2004 Thursday, October 28, 2004 Friday, October 29, 2004 Saturday, October 30, 2004 Sunday, October 31, 2004 Monday, November 01, 2004 Tuesday, November 02, 2004 Wednesday, November 03, 2004 Thursday, November 04, 2004 Friday, November 05, 2004 Saturday, November 06, 2004 Sunday, November 07, 2004 Monday, November 08, 2004 Tuesday, November 09, 2004 Wednesday, November 10, 2004 Thursday, November 11, 2004 Friday, November 12, 2004 Saturday, November 13, 2004 Sunday, November 14, 2004 Monday, November 15, 2004 Tuesday, November 16, 2004 Wednesday, November 17, 2004 Thursday, November 18, 2004 Friday, November 19, 2004 Saturday, November 20, 2004 Sunday, November 21, 2004 Monday, November 22, 2004 Thursday, November 25, 2004 Friday, November 26, 2004 Saturday, November 27, 2004 Sunday, November 28, 2004 Tuesday, November 30, 2004 Wednesday, December 01, 2004 Thursday, December 02, 2004 Friday, December 03, 2004 Saturday, December 04, 2004 Tuesday, December 07, 2004 Wednesday, December 08, 2004 Thursday, December 09, 2004 Friday, December 10, 2004 Saturday, December 11, 2004 Sunday, December 12, 2004 Monday, December 13, 2004 Tuesday, December 14, 2004 Wednesday, December 15, 2004 Thursday, December 16, 2004 Friday, December 17, 2004 Sunday, December 19, 2004 Monday, December 20, 2004 Friday, December 24, 2004 Saturday, December 25, 2004 Sunday, December 26, 2004 Wednesday, December 29, 2004 Thursday, December 30, 2004 Friday, December 31, 2004 Monday, January 03, 2005 Wednesday, January 05, 2005 Thursday, January 06, 2005 Saturday, January 08, 2005 Sunday, January 09, 2005 Tuesday, January 11, 2005 Wednesday, January 12, 2005 Thursday, January 13, 2005 Saturday, January 15, 2005 Wednesday, January 19, 2005 Friday, January 21, 2005 Saturday, January 22, 2005 Sunday, January 23, 2005 Monday, January 24, 2005 Wednesday, January 26, 2005 Thursday, January 27, 2005 Friday, January 28, 2005 Saturday, January 29, 2005 Monday, January 31, 2005 Thursday, February 03, 2005 Friday, February 04, 2005 Saturday, February 05, 2005 Sunday, February 06, 2005 Monday, February 07, 2005 Tuesday, February 08, 2005 Wednesday, February 09, 2005 Thursday, February 10, 2005 Friday, February 11, 2005 Saturday, February 12, 2005 Sunday, February 13, 2005 Tuesday, February 15, 2005 Thursday, February 17, 2005 Saturday, February 19, 2005 Sunday, February 20, 2005 Wednesday, February 23, 2005 Saturday, February 26, 2005 Sunday, February 27, 2005 Monday, February 28, 2005 Wednesday, March 02, 2005 Thursday, March 03, 2005 Sunday, March 06, 2005 Tuesday, March 08, 2005 Wednesday, March 09, 2005 Thursday, March 10, 2005 Friday, March 11, 2005 Saturday, March 12, 2005 Sunday, March 13, 2005 Monday, March 14, 2005 Tuesday, March 15, 2005 Wednesday, March 16, 2005 Thursday, March 17, 2005 Friday, March 18, 2005 Saturday, March 19, 2005 Thursday, March 24, 2005 Friday, March 25, 2005 Saturday, March 26, 2005 Sunday, March 27, 2005 Wednesday, March 30, 2005 Thursday, March 31, 2005 Friday, April 01, 2005 Saturday, April 02, 2005 Sunday, April 03, 2005 Wednesday, April 06, 2005 Thursday, April 07, 2005 Saturday, April 09, 2005 Sunday, April 10, 2005 Monday, April 11, 2005 Thursday, April 14, 2005 Saturday, April 16, 2005 Sunday, April 17, 2005 Monday, April 18, 2005 Wednesday, April 20, 2005 Thursday, April 21, 2005 Friday, April 22, 2005 Saturday, April 23, 2005 Sunday, April 24, 2005 Tuesday, April 26, 2005 Friday, April 29, 2005 Saturday, April 30, 2005 Sunday, May 01, 2005 Monday, May 02, 2005 Tuesday, May 03, 2005 Wednesday, May 04, 2005 Thursday, May 05, 2005 Friday, May 06, 2005 Sunday, May 08, 2005 Wednesday, May 11, 2005 Thursday, May 12, 2005 Friday, May 13, 2005 Sunday, May 15, 2005 Monday, May 16, 2005 Wednesday, May 18, 2005 Thursday, May 19, 2005 Friday, May 20, 2005 Saturday, May 21, 2005 Sunday, May 22, 2005 Monday, May 23, 2005 Tuesday, May 24, 2005 Wednesday, May 25, 2005 Thursday, May 26, 2005 Friday, May 27, 2005 Saturday, May 28, 2005 Sunday, May 29, 2005 Monday, May 30, 2005 Tuesday, May 31, 2005 Wednesday, June 01, 2005 Thursday, June 02, 2005 Friday, June 03, 2005 Saturday, June 04, 2005 Sunday, June 05, 2005 Monday, June 06, 2005 Tuesday, June 07, 2005 Wednesday, June 08, 2005 Thursday, June 09, 2005 Friday, June 10, 2005 Sunday, June 12, 2005 Tuesday, June 14, 2005 Thursday, June 16, 2005 Friday, June 17, 2005 Saturday, June 18, 2005 Sunday, June 19, 2005 Monday, June 20, 2005 Tuesday, June 21, 2005 Thursday, June 23, 2005 Saturday, June 25, 2005 Sunday, June 26, 2005 Tuesday, June 28, 2005 Wednesday, June 29, 2005 Thursday, June 30, 2005 Friday, July 01, 2005 Saturday, July 02, 2005 Monday, July 04, 2005 Wednesday, July 06, 2005 Thursday, July 07, 2005 Saturday, July 09, 2005 Sunday, July 10, 2005 Friday, July 15, 2005 Sunday, July 17, 2005 Tuesday, July 19, 2005 Wednesday, July 20, 2005 Thursday, July 21, 2005 Saturday, July 23, 2005 Sunday, July 24, 2005 Tuesday, August 02, 2005 Thursday, August 04, 2005 Friday, August 05, 2005 Saturday, August 13, 2005 Wednesday, August 24, 2005 Friday, August 26, 2005 Saturday, August 27, 2005 Saturday, September 03, 2005 Wednesday, September 07, 2005 Thursday, September 08, 2005 Saturday, September 24, 2005 Wednesday, September 28, 2005 Wednesday, October 19, 2005 Thursday, October 20, 2005 Friday, October 21, 2005 Sunday, October 23, 2005 Wednesday, November 02, 2005 Monday, November 21, 2005 Wednesday, November 23, 2005 Friday, December 02, 2005 Saturday, December 10, 2005 Saturday, December 17, 2005 Sunday, December 18, 2005 Monday, December 19, 2005 Wednesday, December 21, 2005 Wednesday, January 04, 2006 Friday, January 06, 2006 Monday, January 09, 2006 Monday, January 16, 2006 Tuesday, January 17, 2006 Friday, January 20, 2006 Sunday, January 22, 2006 Saturday, January 28, 2006 Tuesday, January 31, 2006 Wednesday, February 01, 2006 Thursday, February 02, 2006 Wednesday, February 08, 2006 Thursday, February 09, 2006 Friday, February 10, 2006 Saturday, February 11, 2006 Sunday, February 12, 2006 Monday, February 13, 2006 Tuesday, February 14, 2006 Wednesday, February 15, 2006 Thursday, February 16, 2006 Saturday, February 18, 2006 Monday, February 20, 2006 Wednesday, February 22, 2006 Thursday, February 23, 2006 Sunday, March 05, 2006 Tuesday, March 07, 2006 Friday, March 24, 2006 Saturday, March 25, 2006 Wednesday, April 05, 2006 Thursday, April 06, 2006 Friday, April 07, 2006 Saturday, April 08, 2006 Tuesday, April 11, 2006 Monday, April 17, 2006 Tuesday, April 25, 2006 Thursday, April 27, 2006 Tuesday, May 09, 2006 Friday, May 12, 2006 Saturday, May 13, 2006 Sunday, May 14, 2006 Monday, May 15, 2006 Tuesday, May 16, 2006 Thursday, May 18, 2006 Friday, May 26, 2006 Sunday, May 28, 2006 Monday, May 29, 2006 Wednesday, May 31, 2006 Thursday, June 01, 2006 Sunday, June 04, 2006 Monday, June 05, 2006 Friday, June 09, 2006 Saturday, June 10, 2006 Sunday, June 11, 2006 Friday, June 16, 2006 Monday, June 19, 2006 Friday, June 23, 2006 Sunday, June 25, 2006 Tuesday, June 27, 2006 Wednesday, June 28, 2006 Friday, June 30, 2006 Sunday, July 09, 2006 Thursday, July 13, 2006 Friday, July 14, 2006 Saturday, July 15, 2006 Monday, July 17, 2006 Tuesday, July 18, 2006 Wednesday, July 19, 2006 Tuesday, July 25, 2006 Wednesday, July 26, 2006 Friday, July 28, 2006 Sunday, July 30, 2006 Monday, July 31, 2006 Thursday, August 03, 2006 Friday, August 04, 2006 Sunday, August 06, 2006 Monday, August 07, 2006 Wednesday, August 09, 2006 Thursday, August 10, 2006 Sunday, August 13, 2006 Tuesday, August 15, 2006 Thursday, August 17, 2006 Friday, August 18, 2006 Wednesday, September 06, 2006 Friday, September 08, 2006 Monday, September 11, 2006 Wednesday, September 13, 2006 Thursday, September 14, 2006 Friday, September 22, 2006 Saturday, September 23, 2006 Sunday, October 01, 2006 Tuesday, October 03, 2006 Monday, October 30, 2006 Monday, November 06, 2006 Tuesday, November 07, 2006 Sunday, November 12, 2006 Tuesday, November 21, 2006 Wednesday, November 22, 2006 Thursday, November 23, 2006 Friday, December 01, 2006 Monday, December 04, 2006 Tuesday, December 05, 2006 Thursday, December 14, 2006 Wednesday, December 20, 2006 Thursday, December 21, 2006 Friday, December 29, 2006 Wednesday, January 10, 2007 Thursday, January 11, 2007 Saturday, January 13, 2007 Monday, January 15, 2007 Wednesday, January 17, 2007 Saturday, January 20, 2007 Tuesday, January 23, 2007 Tuesday, February 20, 2007 Saturday, February 24, 2007 Sunday, February 25, 2007 Friday, March 23, 2007 Wednesday, April 04, 2007 Tuesday, April 10, 2007 Thursday, April 12, 2007 Friday, April 13, 2007 Thursday, April 19, 2007 Friday, April 20, 2007 Tuesday, April 24, 2007 Tuesday, May 08, 2007 Thursday, May 10, 2007 Friday, May 11, 2007 Monday, May 14, 2007 Tuesday, May 15, 2007 Sunday, May 20, 2007 Monday, May 21, 2007 Tuesday, May 22, 2007 Wednesday, May 23, 2007 Thursday, May 24, 2007 Sunday, May 27, 2007 Wednesday, May 30, 2007 Thursday, May 31, 2007 Friday, June 01, 2007 Monday, June 04, 2007 Wednesday, June 06, 2007 Saturday, June 09, 2007 Sunday, June 10, 2007 Monday, June 11, 2007 Friday, June 15, 2007 Tuesday, June 19, 2007 Tuesday, June 26, 2007 Wednesday, June 27, 2007 Thursday, June 28, 2007 Saturday, June 30, 2007 Monday, July 02, 2007 Tuesday, July 03, 2007 Friday, July 06, 2007 Tuesday, July 10, 2007 Friday, July 13, 2007 Tuesday, July 24, 2007 Saturday, July 28, 2007 Sunday, July 29, 2007 Monday, August 13, 2007 Sunday, August 19, 2007 Saturday, August 25, 2007 Monday, August 27, 2007 Wednesday, August 29, 2007 Friday, August 31, 2007 Friday, September 07, 2007 Wednesday, September 12, 2007 Wednesday, September 19, 2007 Friday, September 21, 2007 Friday, September 28, 2007 Tuesday, October 02, 2007 Thursday, October 11, 2007 Saturday, October 27, 2007 Thursday, November 01, 2007 Saturday, November 03, 2007 Monday, November 05, 2007 Wednesday, November 28, 2007 Tuesday, December 04, 2007 Tuesday, December 11, 2007 Friday, December 14, 2007 Friday, December 21, 2007 Tuesday, December 25, 2007 Saturday, December 29, 2007 Monday, January 07, 2008 Thursday, January 10, 2008 Saturday, January 12, 2008 Sunday, January 13, 2008 Tuesday, January 15, 2008 Friday, January 18, 2008 Saturday, January 19, 2008 Friday, January 25, 2008 Sunday, January 27, 2008 Monday, January 28, 2008 Tuesday, January 29, 2008 Sunday, February 03, 2008 Wednesday, February 06, 2008 Friday, February 08, 2008 Sunday, February 10, 2008 Monday, February 11, 2008 Tuesday, February 12, 2008 Monday, February 25, 2008 Tuesday, February 26, 2008 Monday, March 03, 2008 Tuesday, March 04, 2008 Saturday, March 22, 2008 Saturday, April 19, 2008 Wednesday, April 23, 2008 Saturday, April 26, 2008 Wednesday, April 30, 2008 Monday, May 05, 2008 Tuesday, May 13, 2008 Wednesday, May 14, 2008 Saturday, May 17, 2008 Tuesday, May 20, 2008 Saturday, May 24, 2008 Sunday, May 25, 2008 Thursday, June 12, 2008 Tuesday, June 17, 2008 Saturday, July 05, 2008 Tuesday, July 08, 2008 Monday, August 04, 2008 Thursday, August 28, 2008 Thursday, September 11, 2008 Saturday, September 20, 2008 Monday, September 22, 2008 Tuesday, September 23, 2008 Wednesday, September 24, 2008 Friday, September 26, 2008 Monday, September 29, 2008 Saturday, October 04, 2008 Wednesday, October 08, 2008 Thursday, October 09, 2008 Sunday, October 12, 2008 Wednesday, October 15, 2008 Wednesday, October 22, 2008 Thursday, October 23, 2008 Friday, October 24, 2008 Tuesday, October 28, 2008 Wednesday, October 29, 2008 Monday, November 03, 2008 Tuesday, November 04, 2008 Thursday, November 06, 2008 Saturday, November 08, 2008 Monday, November 10, 2008 Wednesday, November 19, 2008 Thursday, December 18, 2008 Monday, December 22, 2008 Sunday, January 11, 2009 Thursday, January 22, 2009 Monday, January 26, 2009 Thursday, February 19, 2009 Tuesday, February 24, 2009 Friday, February 27, 2009 Monday, March 02, 2009 Thursday, March 05, 2009 Wednesday, March 11, 2009 Thursday, March 12, 2009 Friday, March 13, 2009 Thursday, March 19, 2009 Monday, March 23, 2009 Friday, March 27, 2009 Saturday, March 28, 2009 Sunday, March 29, 2009 Thursday, April 02, 2009 Tuesday, April 07, 2009 Tuesday, April 14, 2009 Tuesday, April 21, 2009 Thursday, April 23, 2009 Saturday, April 25, 2009 Sunday, May 03, 2009 Wednesday, May 06, 2009 Tuesday, May 12, 2009 Wednesday, May 13, 2009 Thursday, May 14, 2009 Sunday, May 17, 2009 Tuesday, May 26, 2009 Wednesday, June 03, 2009 Thursday, June 04, 2009 Tuesday, June 09, 2009 Friday, June 12, 2009 Saturday, June 13, 2009 Sunday, June 14, 2009 Monday, June 22, 2009 Thursday, June 25, 2009 Saturday, July 11, 2009 Tuesday, July 14, 2009 Friday, July 24, 2009 Tuesday, August 18, 2009 Wednesday, August 19, 2009 Friday, August 21, 2009 Monday, August 24, 2009 Thursday, September 03, 2009 Wednesday, September 09, 2009 Thursday, September 10, 2009 Sunday, September 13, 2009 Monday, September 14, 2009 Tuesday, September 15, 2009 Wednesday, September 23, 2009 Friday, September 25, 2009 Sunday, September 27, 2009 Tuesday, September 29, 2009 Monday, November 02, 2009 Tuesday, November 10, 2009 Thursday, November 12, 2009 Tuesday, November 24, 2009 Thursday, February 25, 2010 Thursday, March 04, 2010 Wednesday, March 17, 2010 Tuesday, March 23, 2010 Friday, April 09, 2010 Friday, April 16, 2010 Wednesday, April 21, 2010 Thursday, April 22, 2010 Friday, April 23, 2010 Thursday, April 29, 2010 Sunday, May 02, 2010 Friday, May 07, 2010 Sunday, May 09, 2010 Monday, May 10, 2010 Tuesday, May 11, 2010 Tuesday, June 15, 2010