Copyright Notice
- All original comments are © Copyright 2004 by CodeWarrior. All rights are reserved. All quoted material unless in public domain, are the copyrighted works of the respective copyright holders, and all referenced trademarks are respectively owned by the relevant trademark holder. No attempt nor intention is made by this author to dilute any trademark or infringe any copyrighted material. All materials used on this page not copyrighted by CodeWarrior, are held to be used for non-commercial , personal, fair use purposes. All declaratoy statements not manifestly,contextually or perceptually, intended to be sarcastic, ironic, or parody in nature, are asserted to be true and correct by the author of this blog, as far as could be determined given the information available to the author at the time the post was written. Unauthorized reproduction of material on this page is prohibited, unless such limited reproduction falls under fair use, and such use is authorized if proper attribution of the source of the material, and author is credited in all instances of its usage.
SEARCH THIS SITE USING KEYWORDS
Powered by:

CodeWarriorZ BlueZ
CodeWarriorz Thoughts
Day to day musings of free speech activist CodeWarrior.
CHECK OUT THE WEBSITE OF MY PAL SHMOO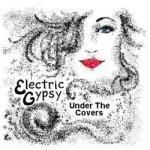 Tuesday, June 28, 2005
VOA News - President Bush Tells America Iraq War is Worth the Costs
President Bush says America must stay the course in Iraq, despite the high cost in lives and dollars. One year after the transfer of sovereignty to the Iraqis, President Bush asked the American people for patience.
The president went to one of the largest military bases in the United States in an effort to shore up support for his Iraq policy. "Our mission in Iraq is clear. We are hunting down the terrorists. We are helping Iraqis build a free nation that is an ally in the war on terror. We are advancing freedom in the broader Middle East," he said.
In a speech to the nation from Fort Bragg, North Carolina, the president acknowledged that many Americans have grown uneasy about the war. He said he understands, and added that he too has seen the disturbing pictures from Iraq of suicide bombings and other acts of violence. "Every picture is horrifying - and the suffering is real," he said."Amid all this violence, I know Americans ask the question: Is the sacrifice worth it?"
Mr. Bush said the work in Iraq is difficult and dangerous, but added it is indeed worth the cost. The president said freedom is under attack in Iraq by an enemy with total disregard for human life. He said the insurgents fighting democracy in Iraq are cut from the same cloth as the terrorists responsible for the September 11, 2001 attacks on the United States.
"The only way our enemies can succeed is if we forget the lessons of September 11 … if we abandon the Iraqi people to men like Zarqawi … and if we yield the future of the Middle East to men like Bin Laden," he said.
His words followed another day of bloodshed in Iraq. A prominent Shi'ite member of parliament was killed in one suicide car bombing, two American soldiers died in two others.
===========SNIP===============
LOSE YOUR FUCKINKG KIDS OVERSEAS AND THEN LET'S SEE IF YOU SAY IT'S WORTH IT...YOU FUCKING ASSHOLE!
War injured toll soars, hits veterans health costs - Yahoo! News
WASHINGTON (Reuters) - As the numbers of U.S. war injured in Iraq and Afghanistan soared, the Bush administration admitted to lawmakers on Tuesday it had underestimated funds to cover health care costs for veterans and Congress would have to plug a $2.6 billion hole.
ADVERTISEMENT
"The bottom line is there is a surge in demand in VA (health) services across the board," said Veterans Affairs Secretary James Nicholson.
The Veterans Administration assumed it would have to take care of 23,553 patients who are veterans from the wars in Iraq and Afghanistan but that number had been revised upward to 103,000, Nicholson told a House of Representatives panel.
Nicholson told a House Appropriations subcommittee that his agency's estimate of Iraq and Afghanistan veterans in need of health care services was now four times greater than thought.
The updated figures underscored how the costs of the Iraq war, approaching $300 billion, were rippling through other parts of a federal budget already under tight spending limits.
Nicholson's testimony, coming after his assurance to Congress in April that veterans' health programs were being adequately funded, angered some lawmakers.
House Appropriations Committee Chairman Jerry Lewis complained during a hearing that the Veterans Administration was silent as his panel wrote a fiscal 2006 veterans spending bill. The measure, he said, could have responded to the funding shortage.
"It borders on stupidity," said Lewis, a California Republican, adding, "I think someone was hoping they could hide the ball for a while."
At the same time, resources are being stretched by aging veterans from past wars who are suffering from "more maladies" than new veterans, Nicholson said.
Lewis said Congress will have to "move very quickly" to approve additional funding, before the start of the next fiscal year on Oct. 1. But he did not say whether other programs would have to be cut to pay for the fix.
The Senate debated on Tuesday a proposal by a group of Democrats to add $1.4 billion to veterans' health care funding for next year.
Senate Democratic leader Harry Reid of Nevada chided Republicans for finally acknowledging a problem. He noted that early attempts by Democrats to add money for veterans health care were "voted down on a strictly partisan vote."
The House already has approved a fiscal 2006 veterans funding bill that is about $1.1 billion above the Bush administration's request. Lawmakers said that will take care of part of the health-care funding problem, which still must be reviewed by the Senate.
Nicholson said his agency is in intensive discussions with the Office of Management and Budget on a request that is likely to be around $1.5 billion in additional funds.
Meanwhile, a $1 billion health-care funding shortage is being taken care of this year, Nicholson said, by tapping a reserve fund and deferring some maintenance and equipment acquisition costs, moves criticized by Democrats.
While Nicholson said veterans' health care was not being compromised by the budget problem, some Democrats were skeptical, citing a veterans health clinic closing in California, cutbacks at an Arlington, Virginia, veterans' medical center and supply shortages in Chicago.
Veterans groups have complained that funding is not keeping pace with inflation and rising medical costs and that veterans in some parts of the country experience long waits for care.
Maybe this is how Rummie reacts to Bush's speeches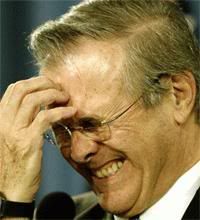 Hit by friendly fire
With his polls down, Bush takes flak on Iraq from a host of critics--including some in his own party
By Kevin Whitelaw

Nebraska Republican Sen. Chuck Hagel is angry. He's upset about the more than 1,700 U.S. soldiers killed and nearly 13,000 wounded in Iraq. He's also aggravated by the continued string of sunny assessments from the Bush administration, such as Vice President Dick Cheney's recent remark that the insurgency is in its "last throes." "Things aren't getting better; they're getting worse. The White House is completely disconnected from reality," Hagel tells U.S. News. "It's like they're just making it up as they go along. The reality is that we're losing in Iraq."

That's strikingly blunt talk from a member of the president's party, even one cast as something of a pariah in the GOP because of his early skepticism about the war. "I got beat up pretty good by my own party and the White House that I was not a loyal Republican," he says. Today, he notes, things are changing: "More and more of my colleagues up here are concerned."

Indeed, there are signs that the politics of the Iraq war are being reshaped by the continuing tide of bad news. Take this month in Iraq, with 47 U.S. troops killed in the first 15 days. That's already five more than the toll for the entire month of June last year. With the rate of insurgent attacks near an all-time high and the war's cost set to top $230 billion, more politicians on both sides of the aisle are responding to opinion polls that show a growing number of Americans favoring a withdrawal from Iraq. Republican Sens. Lincoln Chafee and Lindsey Graham have voiced their concerns. And two Republicans, including the congressman who brought "freedom fries" to the Capitol, even joined a pair of Democratic colleagues in sponsoring a bill calling for a troop withdrawal plan to be drawn up by year's end. "I feel confident that the opposition is going to build," says Rep. Ron Paul, the other Republican sponsor and a longtime opponent of the war.

Sagging polls. The measure is not likely to go anywhere, but Hagel calls it "a major crack in the dike." Whether or not that's so, the White House has reason to worry that the assortment of critiques of Bush's wartime performance may be approaching a tipping point. Only 41 percent of Americans now support Bush's handling of the Iraq war, the lowest mark ever in the Associated Press-Ipsos poll. And the Iraq news has combined with a lethargic economy and doubts about the president's Social Security proposals to push Bush's overall approval ratings near all-time lows. For now, most Republicans remain publicly loyal to the White House. "Why would you give your enemies a timetable?" asks House Majority Leader Tom DeLay. "[Bush] doesn't fight the war on news articles or television or on polls."

Still, the Bush administration is planning to hit back, starting this week, with a renewed public-relations push by the president. Bush will host Iraqi Prime Minister Ibrahim Jafari and has scheduled a major speech for June 28, the anniversary of the handover of power to an Iraqi government from U.S. authorities. But Congress's patience could wear very thin going into an election year. "If things don't start to turn around in six months, then it may be too late," says Hagel. "I think it's that serious."

Bush's exit strategy--which depends on a successful Iraqi political process--got a boost last week when Sunni and Shiite politicians ended weeks of wrangling over how to increase Sunni representation on the constitution-writing committee. Now, however, committee members have less than two months before their mid-August deadline. And given how long it took to resolve who gets to draft the document, it's hard to imagine a quick accord on the politically explosive issues they face.

Archives
Monday, May 03, 2004 Tuesday, May 04, 2004 Sunday, May 09, 2004 Tuesday, May 11, 2004 Wednesday, May 12, 2004 Friday, May 14, 2004 Saturday, May 15, 2004 Sunday, May 16, 2004 Monday, May 17, 2004 Tuesday, May 18, 2004 Wednesday, May 19, 2004 Thursday, May 20, 2004 Friday, May 21, 2004 Monday, May 24, 2004 Tuesday, May 25, 2004 Wednesday, May 26, 2004 Thursday, May 27, 2004 Friday, May 28, 2004 Saturday, May 29, 2004 Sunday, May 30, 2004 Tuesday, June 01, 2004 Wednesday, June 02, 2004 Thursday, June 03, 2004 Friday, June 04, 2004 Saturday, June 05, 2004 Sunday, June 06, 2004 Monday, June 07, 2004 Tuesday, June 08, 2004 Wednesday, June 09, 2004 Thursday, June 10, 2004 Friday, June 11, 2004 Sunday, June 13, 2004 Monday, June 14, 2004 Wednesday, June 16, 2004 Thursday, June 17, 2004 Friday, June 18, 2004 Sunday, June 20, 2004 Monday, June 21, 2004 Tuesday, June 22, 2004 Wednesday, June 23, 2004 Thursday, June 24, 2004 Friday, June 25, 2004 Saturday, June 26, 2004 Sunday, June 27, 2004 Tuesday, June 29, 2004 Wednesday, June 30, 2004 Thursday, July 01, 2004 Friday, July 02, 2004 Saturday, July 03, 2004 Sunday, July 04, 2004 Monday, July 05, 2004 Tuesday, July 06, 2004 Wednesday, July 07, 2004 Thursday, July 08, 2004 Friday, July 09, 2004 Saturday, July 10, 2004 Sunday, July 11, 2004 Monday, July 12, 2004 Tuesday, July 13, 2004 Wednesday, July 14, 2004 Thursday, July 15, 2004 Friday, July 16, 2004 Saturday, July 17, 2004 Sunday, July 18, 2004 Monday, July 19, 2004 Tuesday, July 20, 2004 Wednesday, July 21, 2004 Friday, July 23, 2004 Friday, July 30, 2004 Monday, August 02, 2004 Tuesday, August 03, 2004 Wednesday, August 04, 2004 Thursday, August 05, 2004 Friday, August 06, 2004 Saturday, August 07, 2004 Sunday, August 08, 2004 Tuesday, August 10, 2004 Wednesday, August 11, 2004 Thursday, August 12, 2004 Friday, August 13, 2004 Saturday, August 14, 2004 Sunday, August 15, 2004 Monday, August 16, 2004 Tuesday, August 17, 2004 Friday, August 20, 2004 Saturday, August 21, 2004 Tuesday, August 24, 2004 Wednesday, August 25, 2004 Thursday, August 26, 2004 Friday, August 27, 2004 Sunday, August 29, 2004 Monday, August 30, 2004 Wednesday, September 01, 2004 Thursday, September 02, 2004 Friday, September 03, 2004 Saturday, September 04, 2004 Sunday, September 05, 2004 Monday, September 06, 2004 Tuesday, September 07, 2004 Wednesday, September 08, 2004 Thursday, September 09, 2004 Friday, September 10, 2004 Saturday, September 11, 2004 Sunday, September 12, 2004 Monday, September 13, 2004 Tuesday, September 14, 2004 Wednesday, September 15, 2004 Friday, September 17, 2004 Saturday, September 18, 2004 Sunday, September 19, 2004 Tuesday, September 21, 2004 Wednesday, September 22, 2004 Thursday, September 23, 2004 Friday, September 24, 2004 Saturday, September 25, 2004 Monday, September 27, 2004 Tuesday, September 28, 2004 Wednesday, September 29, 2004 Thursday, September 30, 2004 Friday, October 01, 2004 Saturday, October 02, 2004 Sunday, October 03, 2004 Monday, October 04, 2004 Tuesday, October 05, 2004 Wednesday, October 06, 2004 Thursday, October 07, 2004 Friday, October 08, 2004 Saturday, October 09, 2004 Sunday, October 10, 2004 Tuesday, October 12, 2004 Wednesday, October 13, 2004 Thursday, October 14, 2004 Friday, October 15, 2004 Saturday, October 16, 2004 Sunday, October 17, 2004 Monday, October 18, 2004 Tuesday, October 19, 2004 Wednesday, October 20, 2004 Thursday, October 21, 2004 Friday, October 22, 2004 Saturday, October 23, 2004 Sunday, October 24, 2004 Monday, October 25, 2004 Tuesday, October 26, 2004 Wednesday, October 27, 2004 Thursday, October 28, 2004 Friday, October 29, 2004 Saturday, October 30, 2004 Sunday, October 31, 2004 Monday, November 01, 2004 Tuesday, November 02, 2004 Wednesday, November 03, 2004 Thursday, November 04, 2004 Friday, November 05, 2004 Saturday, November 06, 2004 Sunday, November 07, 2004 Monday, November 08, 2004 Tuesday, November 09, 2004 Wednesday, November 10, 2004 Thursday, November 11, 2004 Friday, November 12, 2004 Saturday, November 13, 2004 Sunday, November 14, 2004 Monday, November 15, 2004 Tuesday, November 16, 2004 Wednesday, November 17, 2004 Thursday, November 18, 2004 Friday, November 19, 2004 Saturday, November 20, 2004 Sunday, November 21, 2004 Monday, November 22, 2004 Thursday, November 25, 2004 Friday, November 26, 2004 Saturday, November 27, 2004 Sunday, November 28, 2004 Tuesday, November 30, 2004 Wednesday, December 01, 2004 Thursday, December 02, 2004 Friday, December 03, 2004 Saturday, December 04, 2004 Tuesday, December 07, 2004 Wednesday, December 08, 2004 Thursday, December 09, 2004 Friday, December 10, 2004 Saturday, December 11, 2004 Sunday, December 12, 2004 Monday, December 13, 2004 Tuesday, December 14, 2004 Wednesday, December 15, 2004 Thursday, December 16, 2004 Friday, December 17, 2004 Sunday, December 19, 2004 Monday, December 20, 2004 Friday, December 24, 2004 Saturday, December 25, 2004 Sunday, December 26, 2004 Wednesday, December 29, 2004 Thursday, December 30, 2004 Friday, December 31, 2004 Monday, January 03, 2005 Wednesday, January 05, 2005 Thursday, January 06, 2005 Saturday, January 08, 2005 Sunday, January 09, 2005 Tuesday, January 11, 2005 Wednesday, January 12, 2005 Thursday, January 13, 2005 Saturday, January 15, 2005 Wednesday, January 19, 2005 Friday, January 21, 2005 Saturday, January 22, 2005 Sunday, January 23, 2005 Monday, January 24, 2005 Wednesday, January 26, 2005 Thursday, January 27, 2005 Friday, January 28, 2005 Saturday, January 29, 2005 Monday, January 31, 2005 Thursday, February 03, 2005 Friday, February 04, 2005 Saturday, February 05, 2005 Sunday, February 06, 2005 Monday, February 07, 2005 Tuesday, February 08, 2005 Wednesday, February 09, 2005 Thursday, February 10, 2005 Friday, February 11, 2005 Saturday, February 12, 2005 Sunday, February 13, 2005 Tuesday, February 15, 2005 Thursday, February 17, 2005 Saturday, February 19, 2005 Sunday, February 20, 2005 Wednesday, February 23, 2005 Saturday, February 26, 2005 Sunday, February 27, 2005 Monday, February 28, 2005 Wednesday, March 02, 2005 Thursday, March 03, 2005 Sunday, March 06, 2005 Tuesday, March 08, 2005 Wednesday, March 09, 2005 Thursday, March 10, 2005 Friday, March 11, 2005 Saturday, March 12, 2005 Sunday, March 13, 2005 Monday, March 14, 2005 Tuesday, March 15, 2005 Wednesday, March 16, 2005 Thursday, March 17, 2005 Friday, March 18, 2005 Saturday, March 19, 2005 Thursday, March 24, 2005 Friday, March 25, 2005 Saturday, March 26, 2005 Sunday, March 27, 2005 Wednesday, March 30, 2005 Thursday, March 31, 2005 Friday, April 01, 2005 Saturday, April 02, 2005 Sunday, April 03, 2005 Wednesday, April 06, 2005 Thursday, April 07, 2005 Saturday, April 09, 2005 Sunday, April 10, 2005 Monday, April 11, 2005 Thursday, April 14, 2005 Saturday, April 16, 2005 Sunday, April 17, 2005 Monday, April 18, 2005 Wednesday, April 20, 2005 Thursday, April 21, 2005 Friday, April 22, 2005 Saturday, April 23, 2005 Sunday, April 24, 2005 Tuesday, April 26, 2005 Friday, April 29, 2005 Saturday, April 30, 2005 Sunday, May 01, 2005 Monday, May 02, 2005 Tuesday, May 03, 2005 Wednesday, May 04, 2005 Thursday, May 05, 2005 Friday, May 06, 2005 Sunday, May 08, 2005 Wednesday, May 11, 2005 Thursday, May 12, 2005 Friday, May 13, 2005 Sunday, May 15, 2005 Monday, May 16, 2005 Wednesday, May 18, 2005 Thursday, May 19, 2005 Friday, May 20, 2005 Saturday, May 21, 2005 Sunday, May 22, 2005 Monday, May 23, 2005 Tuesday, May 24, 2005 Wednesday, May 25, 2005 Thursday, May 26, 2005 Friday, May 27, 2005 Saturday, May 28, 2005 Sunday, May 29, 2005 Monday, May 30, 2005 Tuesday, May 31, 2005 Wednesday, June 01, 2005 Thursday, June 02, 2005 Friday, June 03, 2005 Saturday, June 04, 2005 Sunday, June 05, 2005 Monday, June 06, 2005 Tuesday, June 07, 2005 Wednesday, June 08, 2005 Thursday, June 09, 2005 Friday, June 10, 2005 Sunday, June 12, 2005 Tuesday, June 14, 2005 Thursday, June 16, 2005 Friday, June 17, 2005 Saturday, June 18, 2005 Sunday, June 19, 2005 Monday, June 20, 2005 Tuesday, June 21, 2005 Thursday, June 23, 2005 Saturday, June 25, 2005 Sunday, June 26, 2005 Tuesday, June 28, 2005 Wednesday, June 29, 2005 Thursday, June 30, 2005 Friday, July 01, 2005 Saturday, July 02, 2005 Monday, July 04, 2005 Wednesday, July 06, 2005 Thursday, July 07, 2005 Saturday, July 09, 2005 Sunday, July 10, 2005 Friday, July 15, 2005 Sunday, July 17, 2005 Tuesday, July 19, 2005 Wednesday, July 20, 2005 Thursday, July 21, 2005 Saturday, July 23, 2005 Sunday, July 24, 2005 Tuesday, August 02, 2005 Thursday, August 04, 2005 Friday, August 05, 2005 Saturday, August 13, 2005 Wednesday, August 24, 2005 Friday, August 26, 2005 Saturday, August 27, 2005 Saturday, September 03, 2005 Wednesday, September 07, 2005 Thursday, September 08, 2005 Saturday, September 24, 2005 Wednesday, September 28, 2005 Wednesday, October 19, 2005 Thursday, October 20, 2005 Friday, October 21, 2005 Sunday, October 23, 2005 Wednesday, November 02, 2005 Monday, November 21, 2005 Wednesday, November 23, 2005 Friday, December 02, 2005 Saturday, December 10, 2005 Saturday, December 17, 2005 Sunday, December 18, 2005 Monday, December 19, 2005 Wednesday, December 21, 2005 Wednesday, January 04, 2006 Friday, January 06, 2006 Monday, January 09, 2006 Monday, January 16, 2006 Tuesday, January 17, 2006 Friday, January 20, 2006 Sunday, January 22, 2006 Saturday, January 28, 2006 Tuesday, January 31, 2006 Wednesday, February 01, 2006 Thursday, February 02, 2006 Wednesday, February 08, 2006 Thursday, February 09, 2006 Friday, February 10, 2006 Saturday, February 11, 2006 Sunday, February 12, 2006 Monday, February 13, 2006 Tuesday, February 14, 2006 Wednesday, February 15, 2006 Thursday, February 16, 2006 Saturday, February 18, 2006 Monday, February 20, 2006 Wednesday, February 22, 2006 Thursday, February 23, 2006 Sunday, March 05, 2006 Tuesday, March 07, 2006 Friday, March 24, 2006 Saturday, March 25, 2006 Wednesday, April 05, 2006 Thursday, April 06, 2006 Friday, April 07, 2006 Saturday, April 08, 2006 Tuesday, April 11, 2006 Monday, April 17, 2006 Tuesday, April 25, 2006 Thursday, April 27, 2006 Tuesday, May 09, 2006 Friday, May 12, 2006 Saturday, May 13, 2006 Sunday, May 14, 2006 Monday, May 15, 2006 Tuesday, May 16, 2006 Thursday, May 18, 2006 Friday, May 26, 2006 Sunday, May 28, 2006 Monday, May 29, 2006 Wednesday, May 31, 2006 Thursday, June 01, 2006 Sunday, June 04, 2006 Monday, June 05, 2006 Friday, June 09, 2006 Saturday, June 10, 2006 Sunday, June 11, 2006 Friday, June 16, 2006 Monday, June 19, 2006 Friday, June 23, 2006 Sunday, June 25, 2006 Tuesday, June 27, 2006 Wednesday, June 28, 2006 Friday, June 30, 2006 Sunday, July 09, 2006 Thursday, July 13, 2006 Friday, July 14, 2006 Saturday, July 15, 2006 Monday, July 17, 2006 Tuesday, July 18, 2006 Wednesday, July 19, 2006 Tuesday, July 25, 2006 Wednesday, July 26, 2006 Friday, July 28, 2006 Sunday, July 30, 2006 Monday, July 31, 2006 Thursday, August 03, 2006 Friday, August 04, 2006 Sunday, August 06, 2006 Monday, August 07, 2006 Wednesday, August 09, 2006 Thursday, August 10, 2006 Sunday, August 13, 2006 Tuesday, August 15, 2006 Thursday, August 17, 2006 Friday, August 18, 2006 Wednesday, September 06, 2006 Friday, September 08, 2006 Monday, September 11, 2006 Wednesday, September 13, 2006 Thursday, September 14, 2006 Friday, September 22, 2006 Saturday, September 23, 2006 Sunday, October 01, 2006 Tuesday, October 03, 2006 Monday, October 30, 2006 Monday, November 06, 2006 Tuesday, November 07, 2006 Sunday, November 12, 2006 Tuesday, November 21, 2006 Wednesday, November 22, 2006 Thursday, November 23, 2006 Friday, December 01, 2006 Monday, December 04, 2006 Tuesday, December 05, 2006 Thursday, December 14, 2006 Wednesday, December 20, 2006 Thursday, December 21, 2006 Friday, December 29, 2006 Wednesday, January 10, 2007 Thursday, January 11, 2007 Saturday, January 13, 2007 Monday, January 15, 2007 Wednesday, January 17, 2007 Saturday, January 20, 2007 Tuesday, January 23, 2007 Tuesday, February 20, 2007 Saturday, February 24, 2007 Sunday, February 25, 2007 Friday, March 23, 2007 Wednesday, April 04, 2007 Tuesday, April 10, 2007 Thursday, April 12, 2007 Friday, April 13, 2007 Thursday, April 19, 2007 Friday, April 20, 2007 Tuesday, April 24, 2007 Tuesday, May 08, 2007 Thursday, May 10, 2007 Friday, May 11, 2007 Monday, May 14, 2007 Tuesday, May 15, 2007 Sunday, May 20, 2007 Monday, May 21, 2007 Tuesday, May 22, 2007 Wednesday, May 23, 2007 Thursday, May 24, 2007 Sunday, May 27, 2007 Wednesday, May 30, 2007 Thursday, May 31, 2007 Friday, June 01, 2007 Monday, June 04, 2007 Wednesday, June 06, 2007 Saturday, June 09, 2007 Sunday, June 10, 2007 Monday, June 11, 2007 Friday, June 15, 2007 Tuesday, June 19, 2007 Tuesday, June 26, 2007 Wednesday, June 27, 2007 Thursday, June 28, 2007 Saturday, June 30, 2007 Monday, July 02, 2007 Tuesday, July 03, 2007 Friday, July 06, 2007 Tuesday, July 10, 2007 Friday, July 13, 2007 Tuesday, July 24, 2007 Saturday, July 28, 2007 Sunday, July 29, 2007 Monday, August 13, 2007 Sunday, August 19, 2007 Saturday, August 25, 2007 Monday, August 27, 2007 Wednesday, August 29, 2007 Friday, August 31, 2007 Friday, September 07, 2007 Wednesday, September 12, 2007 Wednesday, September 19, 2007 Friday, September 21, 2007 Friday, September 28, 2007 Tuesday, October 02, 2007 Thursday, October 11, 2007 Saturday, October 27, 2007 Thursday, November 01, 2007 Saturday, November 03, 2007 Monday, November 05, 2007 Wednesday, November 28, 2007 Tuesday, December 04, 2007 Tuesday, December 11, 2007 Friday, December 14, 2007 Friday, December 21, 2007 Tuesday, December 25, 2007 Saturday, December 29, 2007 Monday, January 07, 2008 Thursday, January 10, 2008 Saturday, January 12, 2008 Sunday, January 13, 2008 Tuesday, January 15, 2008 Friday, January 18, 2008 Saturday, January 19, 2008 Friday, January 25, 2008 Sunday, January 27, 2008 Monday, January 28, 2008 Tuesday, January 29, 2008 Sunday, February 03, 2008 Wednesday, February 06, 2008 Friday, February 08, 2008 Sunday, February 10, 2008 Monday, February 11, 2008 Tuesday, February 12, 2008 Monday, February 25, 2008 Tuesday, February 26, 2008 Monday, March 03, 2008 Tuesday, March 04, 2008 Saturday, March 22, 2008 Saturday, April 19, 2008 Wednesday, April 23, 2008 Saturday, April 26, 2008 Wednesday, April 30, 2008 Monday, May 05, 2008 Tuesday, May 13, 2008 Wednesday, May 14, 2008 Saturday, May 17, 2008 Tuesday, May 20, 2008 Saturday, May 24, 2008 Sunday, May 25, 2008 Thursday, June 12, 2008 Tuesday, June 17, 2008 Saturday, July 05, 2008 Tuesday, July 08, 2008 Monday, August 04, 2008 Thursday, August 28, 2008 Thursday, September 11, 2008 Saturday, September 20, 2008 Monday, September 22, 2008 Tuesday, September 23, 2008 Wednesday, September 24, 2008 Friday, September 26, 2008 Monday, September 29, 2008 Saturday, October 04, 2008 Wednesday, October 08, 2008 Thursday, October 09, 2008 Sunday, October 12, 2008 Wednesday, October 15, 2008 Wednesday, October 22, 2008 Thursday, October 23, 2008 Friday, October 24, 2008 Tuesday, October 28, 2008 Wednesday, October 29, 2008 Monday, November 03, 2008 Tuesday, November 04, 2008 Thursday, November 06, 2008 Saturday, November 08, 2008 Monday, November 10, 2008 Wednesday, November 19, 2008 Thursday, December 18, 2008 Monday, December 22, 2008 Sunday, January 11, 2009 Thursday, January 22, 2009 Monday, January 26, 2009 Thursday, February 19, 2009 Tuesday, February 24, 2009 Friday, February 27, 2009 Monday, March 02, 2009 Thursday, March 05, 2009 Wednesday, March 11, 2009 Thursday, March 12, 2009 Friday, March 13, 2009 Thursday, March 19, 2009 Monday, March 23, 2009 Friday, March 27, 2009 Saturday, March 28, 2009 Sunday, March 29, 2009 Thursday, April 02, 2009 Tuesday, April 07, 2009 Tuesday, April 14, 2009 Tuesday, April 21, 2009 Thursday, April 23, 2009 Saturday, April 25, 2009 Sunday, May 03, 2009 Wednesday, May 06, 2009 Tuesday, May 12, 2009 Wednesday, May 13, 2009 Thursday, May 14, 2009 Sunday, May 17, 2009 Tuesday, May 26, 2009 Wednesday, June 03, 2009 Thursday, June 04, 2009 Tuesday, June 09, 2009 Friday, June 12, 2009 Saturday, June 13, 2009 Sunday, June 14, 2009 Monday, June 22, 2009 Thursday, June 25, 2009 Saturday, July 11, 2009 Tuesday, July 14, 2009 Friday, July 24, 2009 Tuesday, August 18, 2009 Wednesday, August 19, 2009 Friday, August 21, 2009 Monday, August 24, 2009 Thursday, September 03, 2009 Wednesday, September 09, 2009 Thursday, September 10, 2009 Sunday, September 13, 2009 Monday, September 14, 2009 Tuesday, September 15, 2009 Wednesday, September 23, 2009 Friday, September 25, 2009 Sunday, September 27, 2009 Tuesday, September 29, 2009 Monday, November 02, 2009 Tuesday, November 10, 2009 Thursday, November 12, 2009 Tuesday, November 24, 2009 Thursday, February 25, 2010 Thursday, March 04, 2010 Wednesday, March 17, 2010 Tuesday, March 23, 2010 Friday, April 09, 2010 Friday, April 16, 2010 Wednesday, April 21, 2010 Thursday, April 22, 2010 Friday, April 23, 2010 Thursday, April 29, 2010 Sunday, May 02, 2010 Friday, May 07, 2010 Sunday, May 09, 2010 Monday, May 10, 2010 Tuesday, May 11, 2010 Tuesday, June 15, 2010